This article is more than 1 year old
RETURN of the PLAYMONAUT: El Reg's space hero suits up again
Our intrepid ace test pilot hears siren call of LOHAN
We at the Special Projects Bureau are of the opinion that our heroic playmonaut - who guided the Vulture 1 spaceplane to Guinness World Record glory - has been a bit idle of late.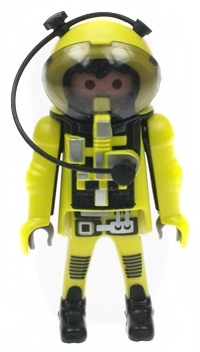 Back in May, he jetted off to Blighty to assist in the design of the Low Orbit Helium Assisted Navigator (LOHAN) Vulture 2, and that was pretty well the last we heard of him, except for a scandalous report of a dalliance with a Lindsay Lohan lookalike.
Well, earlier this week we ordered our errant pilot to collect a new spacesuit and fly back to the SPB's mountaintop headquarters ahead of an imminent and vital LOHAN mission.
As you can see, he cuts quite a dash in his new kit, which he's been putting through its paces to determine whether it's up to the rigours of audacious ballocket launches.
Given that our man is expected to survive an ascent to the stratosphere followed by a high-speed spaceplane launch and long glide back to terra firma, we made sure he and his suit got a good workout.
First up was the jaunt back to base in an aircraft on loan from Lockheed Martin, which was hassling us to check out its products since it found out we picked up a second-hand Apache attack chopper from Boeing: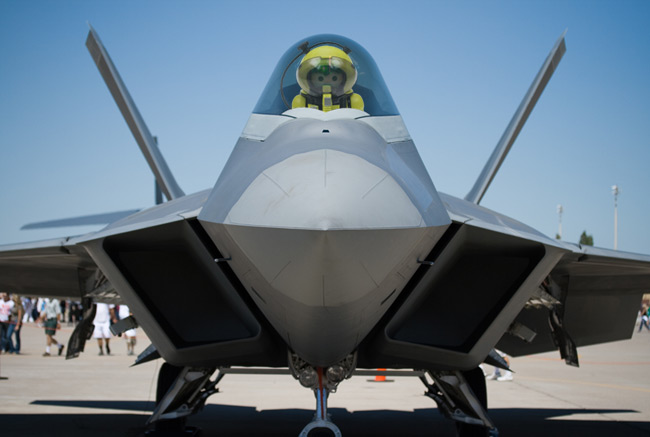 The flight proved eventful - with the dramatic simultaneous failures of the F-22's pilot oxygen system and heated coffee cup holder - so the chequebook won't be coming out any time soon.
Back briefly on terra firma, our playmonaut was relieved to strap into a rather less risky form of transport...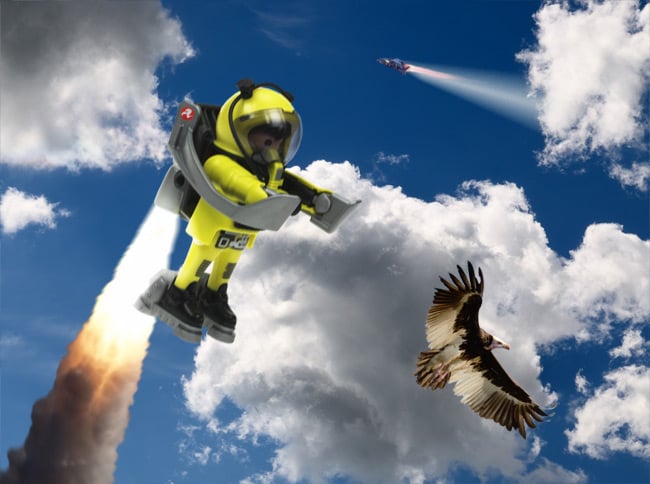 ...for a quick trip to the International Space Station, where he delivered NASA's recently-developed "Advanced Space Shovel"*, plus a nice cup of tea for thirsty spacewalkers**: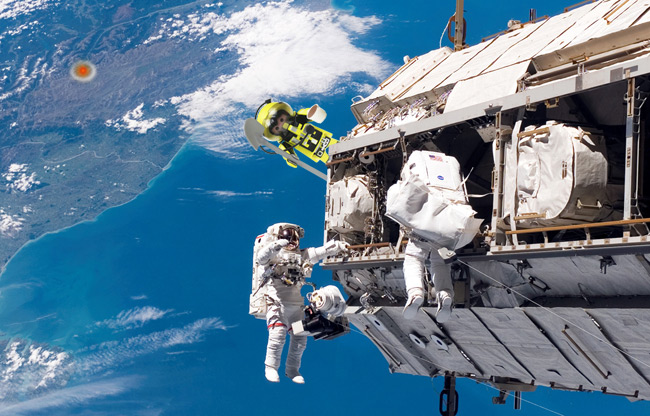 The verdict on the new suit is that it works a treat. Just as well, because it's required for the aforementioned upcoming mission, the details of which we're not currently at liberty to disclose.
So, with our intrepid pilot physically and mentally prepared for the task ahead, we've decided to allow him some brief R&R, which he's spending in traditional fashion...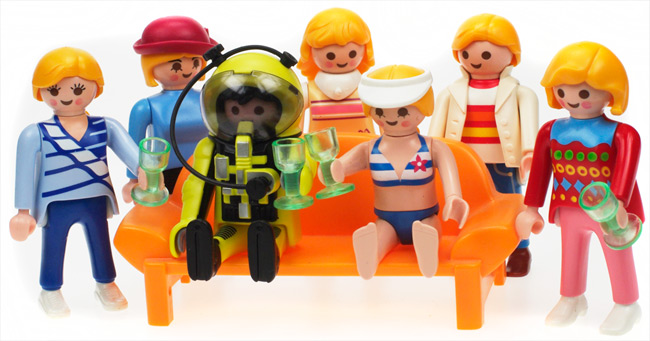 ...although he's at instant readiness for whatever arduous task awaits him. Watch this space. ®
Bootnotes
*Developed at a cost of $56.7m. The Russian equivalent cost 300 roubles (roughly $10) at Dmitry's Discount Hardware in Moscow.
**In the top left corner of the ISS photo you can see a massive explosion and shock wave radiating out from an unidentified mountain peak. We can assure you it's got absolutely nothing to do with an SPB secret laser weapon test.
---
Further LOHAN resources:
---