Revenue from apps sold in the Google Play store have exploded this year, but they still have quite a way to go before catching up with the cash cow that is the iOS App Store.
According to a new report by the app sales and download analysts at App Annie, Google Play sales revenue grew a hefty 311 per cent from January through October of this year. iOS apps, however, still bring in a healthy four times as much mazuma as do Android apps.
Google Play's high growth numbers, of course, are helped by the fact that Android apps started the year at a paltry revenue rate – high growth percentages can be misleading when compared with a nanoscale base. iOS revenues, for example, grew a mere 12.9 per cent during the same period, but their January base was around a dozen times greater than Google Play's.
Still, iOS appears to have stalled while Google Play continues to grow. During October, for example, Google Play's revenues bumped up by 17.9 per cent while iOS sunk by 0.7 per cent.
Revenues aside, Google Play is rapidly catching up to iOS when comparing free-download totals, not revenues. Since June, App Annie notes, free downloads from Google Play have grown by 48 per cent, while iOS grew only 4.4 per cent.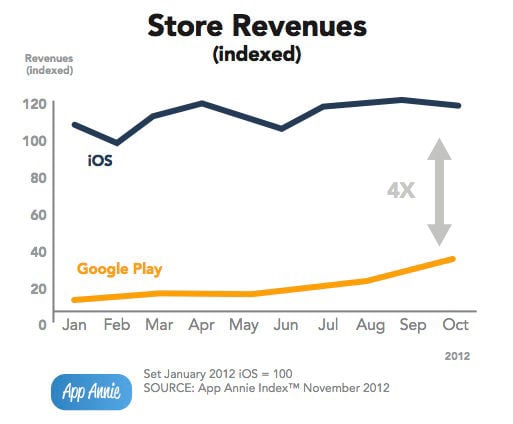 It's easy to show a massive growth percentage when you start at a low base
Also of interest in App Annie's 16-page report is the geographical distribution of downloads and revenues. In January, the US led the world in free iOS download with a 30 per cent share; in October that had shrunk to 25.8 per cent, with China growing its number-two position to 15.3 per cent.
When comparing iOS revenues, however, China doesn't even make it into the top four. iOS revenues in the US were 32.7 per cent of the global total, with Japan far behind in the number-two spot at 14.4 per cent.
It should be interesting to check the China v US figures in a few months, now that Apple has announced that the iPhone 5, iPad mini, and latest iPad will be available in the Middle Kingdom in the next two weeks.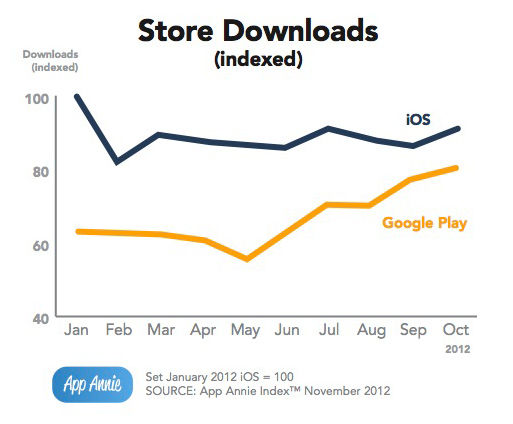 When it comes to freebies, Android is rapidly catching up to iOS
While the US leads in both iOS free downloads and revenues, it has been eclipsed by Japan for the first time in Google Play revenues. That country's Google play revenues have grown by ten times since January of this year, and now outpace revenues in the US, 28.9 per cent to 26 per cent.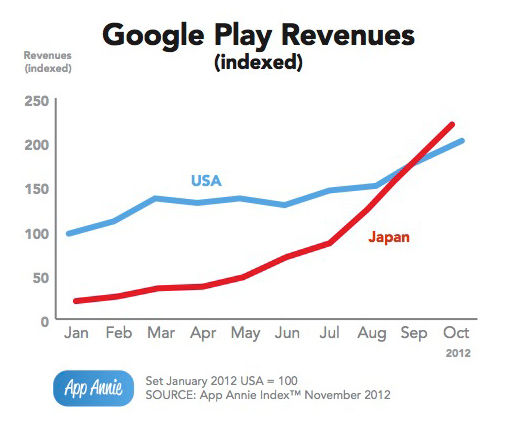 Japan overtakes the US in Google Play revenues as Asian Android games gain in popularity
App Annie's analysis comes from tracking 150,000 apps that subscribe to the free App Annie Analytics service, which tracks iOS sales and downloads in 155 countries, and Android in 44. The company, with offices in Beijing, Paris, San Francisco, and Hong Kong, claims to be "tracking more downloads and revenues than any other app store market data company – to date, over 11 billion downloads and more than $1.5 billion in app store publisher revenues." ®
Bootnote
As might be guessed, games dominate the best-seller lists for both iOS and Google Play, with Asian games leading on Android devices and US games on iOS devices. Sheer numbers of games offered by a publisher, however, doesn't guarantee market domainance. Finland's Supercell, for example, holds the number-two iOS revenue position with only two games: Hay Day and Clash of Clans. Electronic Arts, the number-one iOS revenue earner, publishes 962 games either through its own brand or through its subsidiaries.
Similar topics