Something for the Weekend, Sir? Men as a gender can be a smelly lot. There are cultural reasons underlying some of our questionable standards of personal hygiene but we are also victims of our own DNA. Like stature, baldness and the length of our ah… noses, there are many challenging aspects of our bodily functions that we simply inherited.
For example, I have a natural propensity to perspire at even modest levels of physical effort. Forget walking up the stairs: my face begins to gleam if I so much as sit up in my chair too quickly. During yoga and karate classes, I regularly have to excuse the behaviour of my pores to newcomers who stare at me worriedly, thinking I am about to die - or worse, splash them as I keel over. I tell them I am like this because I am working harder than they are but it's actually all down to a peculiarity in my genes.
In layman's terms, I am a sweaty bastard.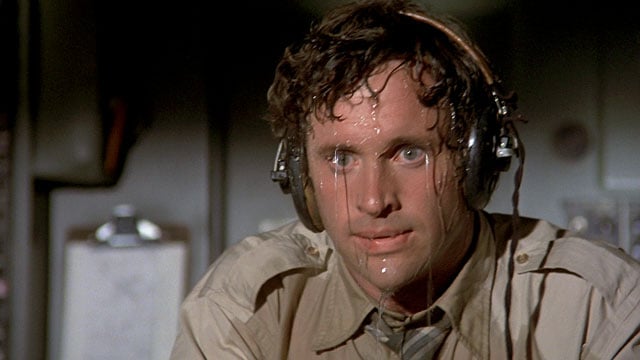 "Trust me, this is normal – it's in my genes"
Source: Paramount Pictures
One thing I am not, though, is a greasy sweaty bastard. As such, I can safely deduce that the revolting finger blobs and disconcerting smears all over my computer screen every morning are the product of someone working the night shift. But these are not your everyday smears and streaks removed with a lens cloth: I need a windscreen ice scraper to shift this gunge. The man responsible (for it could only be a man) must be doing motorcycle maintenance or serving kebabs while sitting at my desk.
This is a far cry from the days when I received my initial desktop publishing training in the late 1980s from a mad woman who told dirty jokes and employed a pair of teenagers to help typeset classified ads for porn magazines. I digress. At one point in her training course, she explained that I should never use my sleeve or a hanky to wipe a screen clean but to always use Windowlene. You may have noticed that my previous sentence rhymed: this is because she used to sing the advice like an advertising jingle. I told you she was mad.
My midnight nemesis would do well to abide by this advice, but hey, why bother when he can just rely on me to do it for him every morning? It's like one of my flatmates back at Uni who said in all seriousness that dirty dishes didn't bother him and he knew that I'd clean them for him eventually, so he had not one but two practical reasons for being a lazy fucker.
It could be that, in a similar fashion to my perspiration problem, the Lard Knight's skin might just be reacting badly to the screen surface. I've noticed this myself with various types of touchscreen device. My newest smartphone has an 'anti-smear coating' which I assumed was mere marketing nonsense until I applied protector films to the front and back to prevent scratches, whereupon the phone became a ghastly smear magnet (figuratively speaking, of course - fingerprints are not renowned for their significant magnetic properties).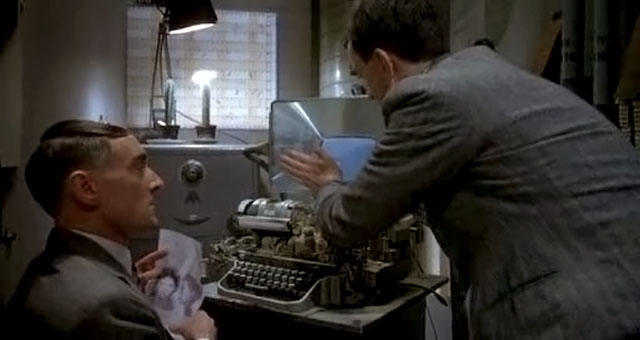 "Swipe all you like, but you're confusing my terminal with the latest Windows 8 hardware"
Source: Embassy International Pictures
Yet what baffles me most of all is why Mr Castrol GTX is groping the display surface at all. It's just an ordinary computer display, not a touchscreen. Is he pointing things out to his night-time colleagues? Surely not. This guy has fingertips like those of an elephant, so no-one would be able to see anything, even after scraping away the inch-thick layer of axle grease he's emitting from his stumpy digits.
Perhaps we've all just become so tactile with our computer devices that it has now become irresistible to touch them even when it's unnecessary to do so. However, I think it's worse than that. The Moonlit Muckspreader is, I believe, marking his territory. It won't be long before the swivel chair upholstery gets sticky and the desk legs begin to smell of wee. Be warned, dear reader, because this could be happening to a cubicle near you soon. ®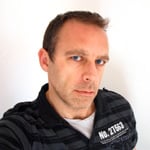 Alistair Dabbs is a freelance technology tart, juggling IT journalism, editorial training and digital publishing. He thinks hot-desking is fine as long as the personal heat has time to dissipate before he is expected to sit on the same chair. He shall keep you updated as to the progress or regression of his Phantom of the Slopera.