This article is more than 1 year old
Wanna see a 30D-rack beauty that goes like the clappers?
What, we mean Whiptail's all-flash drive array, you perv
Whiptail has increased the number of storage nodes in its all-flash array to 30.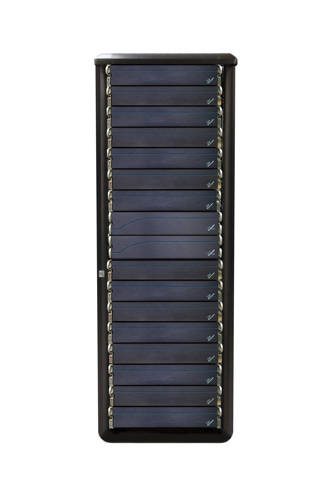 30-node Whiptail Invicta
Up until now, Whiptail's NAND-packed array could have two to six Invicta nodes. Each node can store 6TB to 12TB in MLC flash, allowing each array to contain up to 72TB. The chips can do 650,000 random read IOPS, 550,000 random write IOPS, and shift 5GB/sec in sequential writes and 7GB/sec in sequential read bandwidth, it is claimed.
Now the company has grown its all-flash array to hold 30 Invicta nodes, allowing them to hold up to 360TB of data. Whiptail said a 180TB 15-node Invicta Infinity machine delivered 2.1 million IOPS and 21.8GB/sec throughput. CTO James Candelaria added: "We expect a fully populated 30-node 360TB INFINITY to exceed 4 million IOPS and 40GB/sec throughput in real world use."
Whiptail said this makes Infinity "the highest capacity, highest performing and most flexible enterprise class modular solid-state storage array on the market". However, SolidFire claimed earlier this month that its SF3010 and SF6010 arrays can be clustered using 10Gbit/s Ethernet in 100-node setups offering more than 2PB of capacity and 5 million IOPS - which tops Whiptail's latest spec.
We're told the Infinity arrays can hold a petabyte of data in flash, provided you buy two of them. Dan Crain, Whiptail CEO, said: "It's like eating potato chips, you can't stop with just one." If only the arrays were as cheap as chips.
More product news will be forthcoming from Whiptail in the next few quarters. Crain added: "This is just the beginning for us when it comes to the product roadmap. Now we're moving into the high-capacity space."
Invicta Infinity clusters will be available in the first quarter of next year. ®