This article is more than 1 year old
NY Museum of Modern Art embraces 14 video games
Did your favorite digital diversion make the curatorial cut?
The prestigious Museum of Modern Art (MoMA) in New York has elevated the humble video game into its pantheon of art objects, and has named the first 14 of the 40 or so games that it will eventually add to its collection.
"Are video games art?" MoMA curator Paola Antonelli asked rhetorically when announcing the collection, then answered herself. "They sure are, but they are also design, and a design approach is what we chose for this new foray into this universe."
Playability and pure gaming goodness were not enough for a game to be accepted into MoMA's rarified atmosphere. As Antonelli explains, neither visuals nor aesthetics – although important – would suffice, either. Among the criteria she cites that elevate a game beyond the quotidian are the elegance of its code and the behavior of the game player that the game evokes.
"In order to develop an even stronger curatorial stance," she continues, "over the past year and a half we have sought the advice of scholars, digital conservation and legal experts, historians, and critics, all of whom helped us refine not only the criteria and the wish list, but also the issues of acquisition, display, and conservation of digital artifacts that are made even more complex by the games' interactive nature."
And you thought that your Pac-Man persona was merely a gobbler of yellow dots, or that you were simply paving roads in Sim City, and you did not need the validation of curators, historians, or critics. Peasant.
The first 14 games chosen by Antonelli and her curatorial staff span a broad range of styles, from the minimalist simplicity of the original Tetris to the ethereal boredom of Myst to the low-res sentimentalism of Passages to the inevitable doom of Canabalt.
"Over the next few years," Antonelli writes, "we would like to complete this initial selection with Spacewar! (1962), an assortment of games for the Magnavox Odyssey console (1972), Pong (1972), Snake (originally designed in the 1970s; Nokia phone version dates from 1997), Space Invaders (1978), Asteroids (1979), Zork (1979), Tempest (1981), Donkey Kong (1981), Yars' Revenge (1982), M.U.L.E. (1983), Core War (1984), Marble Madness (1984), Super Mario Bros. (1985), The Legend of Zelda (1986), NetHack (1987), Street Fighter II (1991), Chrono Trigger (1995), Super Mario 64 (1996), Grim Fandango (1998), Animal Crossing (2001), and Minecraft (2011)."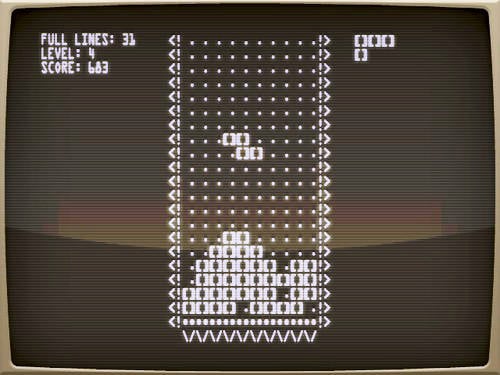 The original Tetris of 1984, as minimalist as anything created by Dan Flavin or Sol LeWitt
The first 14 games will be unveiled in MoMA's Philip Johnson Art and Design Galleries in March of next year, where they – or presentations of their gamey essences – will take their places alongside such other iconic objects as the original iPod, Lego blocks, and the Bic lighter. ®