Astronomers from the Kjell Henriksen Observatory at Svalbard have released the first images from the NORUSCA II camera, showing the Northern Lights captured across 41 spectral bands.
NORUSCA II is designed to switch between all of its optical bands "in a matter of microseconds", explains this announcement. A standard camera with six machine-driven filters wouldn't be able to keep up.
The idea of the hyperspectral camera is to capture short-lived transient events – and much to the delight of the KJO astronomers, they believe they've achieved just that, in the January observation run now made public.
A major Coronal Mass Ejection – solar flare in the vernacular – in January coincided with NORUSCA II's first research campaign, producing a major aurora event that the camera captured. However, while analysing the results, the researchers spotted something unexpected.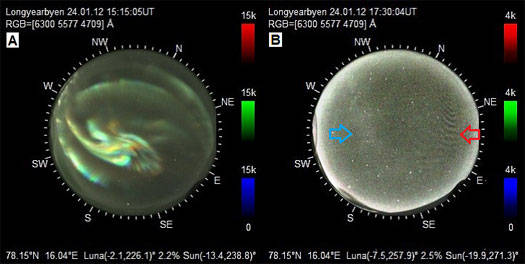 Left: composite image using just three of NORUSCA II's spectral bands.
Right: the faint 'airglow' wave (red arrow) compared to the glow of the Milky Way (blue arrow).
Source: The University Center in Svalbard
As well as being able to capture the aurora through a layer of low-altitude clouds, the camera "revealed a very faint wave pattern of unknown origin" in the lower atmosphere. The pattern resembles a phenomenon called "airglow", faint atmospheric light that can be caused by cosmic radiation or chemical reactions.
Professor Fred Sigernes of the University Center in Svalbard said "we think we saw an auroral-generated wave interaction with airglow. This would be an entirely new phenomenon and if confirmed, would be the first time airglow has been associated with auroras." ®