The blinking, buzzing fluorescent lighting tubes that have blighted office buildings for over 70 years could be on their way out, now that US scientists think they've cracked a system to replace them with glowing plastic.
"People often complain that fluorescent lights bother their eyes, and the hum from the fluorescent tubes irritates anyone sitting at a desk underneath them," said David Carroll, professor of physics and director of the Wake Forest University Center for Nanotechnology and Molecular Materials. "The new lights we have created can cure both of those problems and more."
The new system, dubbed field-induced polymer electroluminescents (FIPEL), uses three layers of white-light emitting polymers that have been mixed with nanomaterials that glow when electrically stimulated. The research team claims the resultant light is close to natural sunlight but can be filtered for specific colors.
Because of the nature of the materials the light source can be built in sizes from eight feet square down to the size of a single light bulb. The team says they are twice as efficient as conventional fluorescents, and as good as LEDs when it comes to energy consumption and won't need a hazmat team to clean up if they break.
While recycling them could be an issue the design should last much longer than conventional lighting systems. The team says one of their units has been in operation for over a decade with no sign of dying as yet.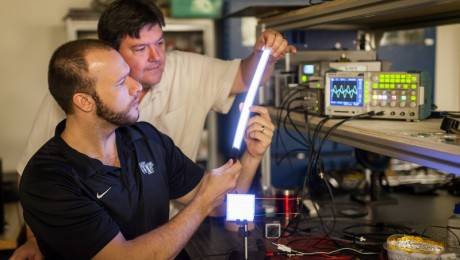 Let there be light
Full details of the system have been published in the peer-reviewed journal Organic Electronics and a commercial company is set to start selling the new panels as early as next year.
In 2007, then-president George W. Bush signed off on legislation calling for a 25 per cent reduction in incandescent bulb energy use by 2012, but several presidential candidates in the last US election tried to portray President Obama as using such legislation to promote government control, after he supported the move.
Minnesota Congresswoman Michele Bachmann felt so outraged by the energy-saving proposition that she introduced the Light Bulb Freedom of Choice Act to abolish the recommendation. Defeated Republican contender Mitt Romney also picked up on the subject.
"The government would have banned Thomas Edison's light bulb," Romney told the University of Chicago, Huffington Post reports. "Oh yeah, Obama's regulators actually did." ®