HP lunges at EMC's midrange with new 3PAR StoreServ 7000s
Bruised from Autonomy bashing, but not kissing the canvas just yet
Discover 2012 The Autonomy acquisition a year ago left Hewlett-Packard with a hangover, but buying storage suppliers 3PAR and IBRIX seems to have worked out without many hitches - and it's revitalized HP's storage biz.
This time last year at the HP Discover customer and partner extravaganza in Vienna, the 3PAR, IBRIX, StoreOnce, and LeftHand storage products were all refreshed, and this week at the HP Discover conference in Frankfurt, 3PAR, a rebranded IBRIX, and StoreOnce are part of another big storage line refresh.
The HP presentation given to El Reg on the storage announcements is a bit hyperbolic, calling this "the biggest announcement in the history of HP storage". Craig Nunes, vice-president of marketing for HP's storage line, tried to keep the drama building by saying today's announcements were "the biggest things we have done in a long time".
As you might imagine, HP has set its sights on rival and industry juggernaut EMC, and says it can cover all the various storage needs in the data centre with fewer products than EMC offers to do the same.
The way Nunes cases the competition, for the primary storage job, EMC has VMAX arrays for large customers. VNX arrays for midrange customers, VNXe arrays for entry customers, XtremIO arrays for solid-state storage, and VPLEX arrays for back-ending virtual machines on servers. For information retention and analytics, EMC is peddling Isilon scale-out NAS, Centera for archiving, and Atmos for object storage. And for information protection, EMC has Data Domain arrays as the target for backups and Avamar products/
"For primary storage, 3PAR can compress what EMC takes five platforms do to down to one," says Nunes, and that is thanks to HP scaling down the 3PAR systems to where its EVA arrays have been trying to hold the line. By doing so, HP can now address an $11bn market opportunity with its 3PAR products. HP is firing its IBRIX-based StoreAll boxes at the information retention and analytics job and the StoreOnce products, also running atop IBRIX iron, at the de-duplicated backup job.
In addition to launching the new 3PAR StoreServ 7000 series, which Nunes says is the first tier-one storage in the midrange, HP is also cranking out the 3.1.2 update of its 3PAR storage software, which runs on the high-end StoreServ 10000 arrays as well as the new midrange StoreServ 7000 boxes.
There are two models of the 3PAR midrange arrays. The StoreServ 7200 has two array controllers based on the fourth-generation 3PAR ASIC. The StoreServ 7200 comes in a 2U chassis has room for two dozen 2.5-inch drives and has 24GB of cache; it also has four 8Gb/sec Fibre Channel ports built in with another eight optional, plus two built-in remote copy ports. With additional disk enclosures, you can boost the capacity of the 7200, which tops out at 144 disk drives and 120 solid state drives. There's a 2U enclosure that holds 24 2.5-inch drives and a 4U enclosure that holds the same number of 3.5-inch drives.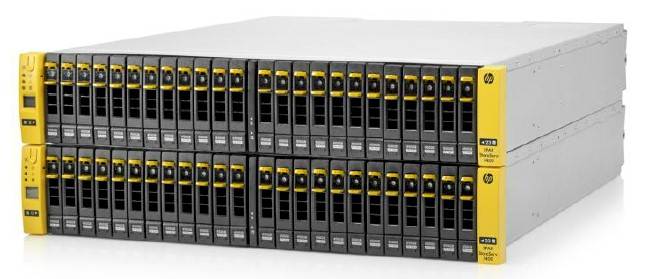 The HP 3PAR StoreServ 7400 array
The StoreServ 7400 basically doubles up the configuration, with a base configuration that mirrors the StoreServ 7200 but you can double it up with a four-controller configuration. That four-controller setup is fully configured with 64GB of cache, 24 Fibre Channel ports, eight remote copy ports, 480 disks and 240 SSDs in 2.5-inch form factors.
The StoreServ 7400 with 480 disks will fill a single rack, and that is a lot of storage for midrange shops. The point is, they won't start with such a configuration but rather that they have the option to grow into it. And if they need lots of I/O operation throughput, then they can go with SSDs and the integrated four controllers have enough oomph to support up to 240 SSDs and deliver 320,000 IOPS.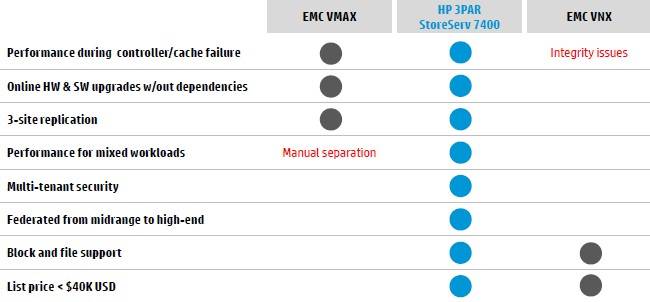 How HP says it stacks up against EMC in the midrange
The base StoreServ 7200 comes with two controllers, the 3PAR software, and eight 300GB 2.5-inch drives spinning at 15K RPM; it costs $20,000. The base StoreServ 7400 comes in a 4U chassis with room to add more controllers and some with the same base eight drives; it costs $43,000.
Obviously, you need to buy a lot more disks to make these machines useful. HP is supporting 100GB and 200GB SLC SSDs with SAS interfaces in 2.5-inch and 3.5-inch form factors; 3.5-inch SAS disks spinning at 7,200 RPM in 2TB and 3TB capacities; 2.5-inch SAS drives spinning at 10K RPM in 450GB and 900GB capacities; and a 2.5-inch SAS disk spinning at 15K RPM in a 300GB capacity. You can obviously mix and match SSDs in a 3PAR array.
For those customers who are familiar with HP's EVA arrays, which are missing the thin provisioning, remote copy, peer motion, and other functions that 3PAR arrays have, HP has ported some EVA tools to the new StoreServ 7000s. So the setup looks and feels the same for them as if they were buying EVAs.
"It is easier to move from an EVA to the StoreServ 7000 than it is to move from one EVA to another," says Nunes.
The new 3PAR 3.1.2 software will be available on the new 7000 series arrays as well as on the existing 10000 series. One new software feature is called priority optimisation, and it allows you to guarantee a certain level of performance for a tenant on a cloud or an application a certain level of bandwidth and IOPS coming out of and going into a StoreServ array. This will be patched onto the arrays in 2013.
The 3PAR 3.1.2 software knows how to federate arrays, and they can talk to each other and replicate data and failover over metro distances. HP has also taken the software it created to help automate the setting up of storage for VMware virtualisation clusters and applied this generically to disaster recovery configuration for the 3PAR arrays. You don't to set up anything on the remote server or 3PAR array to get disaster recovery – you just point one array at the other and the 3PAR software takes it from there. (I don't know about you, but we don't trust software that far until we have verified it is working.) This data replication for disaster recovery does not require server clustering, but it is complementary to it if you have server-level clustering.
The 3PAR arrays "always did great block storage", according to Nunes, and with the 3PAR software update, it is also adding file services. These StoreServ File Services do de-duplication of files to automagically reclaim capacity and also have policy-based tiering for block-level and file-level storage and encryption for data at rest and in flight.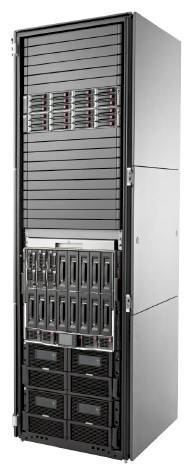 The StoreAll object and file storage appliance
HP's IBRIX storage appliances are also getting tweaked and turned into a new machine, the StoreAll 9000 series. This StoreAll machine includes a new StoreAll Express Query based on a NoSQL data store and related metadata search engine created by HP Labs layered on top of it. The StoreAll appliances can scale to over 1,000 nodes and up to 16PB of capacity. The machine can handle object or file data – what HP is calling "polymorphic simplicity" – and can do scans a lot faster than traditional file systems, according to Nunes.
On an internal test run by HP on the same exact hardware with and without the Express Query add-on for the IBRIX arrays, it took 42 hours to do a file system scan to look through 500 million files, but the Express Query software could do the same file system scan in 1.4 seconds. And, HP wants to point out, this StoreAll beast is perfect as a repository for its Autonomy IDOL big unstructured data muncher.
The IBRIX X9000 appliances can be upgraded to StoreAll 9730. An extreme capacity, ultradense StoreAll 9730 setup with 16 nodes and 1.7PB of raw capacity costs $1.53m, or about 91 cents per GB. If you want to start small, you can get a 140TB StoreAll 9730 based on 70 3TB disks with two nodes for $192,589. The base StoreAll 9320 comes with two nodes and two dozen 300GB disks costs $111,104. These prices include all software features – tiering, snapshots, continuous remote replication, Express Query, data retention, constant validation, and WORM – and three years of maintenance for the StoreAll appliances.
HP is also gussying up its StoreOnce 6000 series storage arrays, announced back in June, enhancing them with multi-tenancy features aimed at both enterprises and service providers to give different permissions for admins and users and to separate data and management traffic from each other inside the system. HP is also porting the StoreOnce Catalyst software downmarket and plopping it on the StoreOnce 2000 and 4000 series disk-to-disk backup arrays.
The StoreOnce 200 Backup appliance costs $10,000 in a base configuration, and the 4000 series costs $25,000. The 6200 series announced last summer runs $220,000. The Catalyst software runs $500 on the low-end backup appliance; pricing was not available at press time on the larger backup appliances. ®