Whitman: HP '100 per cent committed' to Autonomy
Big, innovative, and profitable – excepting those massive writeoffs
---
Discover 2012 Hewlett-Packard CEO Meg Whitman kicked off the Discover 2012 customer and partner event today in Frankfurt with a keynote address meant to calm everyone down about HP and its future. And she trotted out her lieutenants in the enterprise hardware and software groups to help make her case.
Whitman made no bones about the fact that it has been a tough year for HP, and in fact, as she well knows as an HP board member, the past two years have been interesting times, as the old Chinese curse goes.
"It's been quite a year, not much going on at all," Whitman said sarcastically as she opened, and instead of laughs, everyone was quiet in the keynote session. "Holy smokes!" she repsonded, and then conceded that "it has been a challenging year."
While that is an interesting opening to a speech, what everyone wants to know is when the shenanigans are going to stop so HP can focus solely on the business at hand: creating great IT products that people will buy and bring the company revenues and profits.
Whitman said that she loves HP's company history and its employees, and said that HP has a "long legacy of customer partnership and trust" that is one of its greatest assets. "You want us to win," said Whitman. "It turns out that it is hard to kill founder DNA." This is in reference to Bill Hewlett and Dave Packard, who created some legendary products as you would expect from Stanford University engineers.
Even with all the troubles with the Autonomy acquisition, the PC business, and the $18bn in writedowns in the past two quarters, Whitman reminded everyone that HP is one of the largest companies in the world and also, on a cash flow basis, one of the most profitable – throwing off more cash than Coca Cola, FedEx, McDonalds, and others. "We are on a very solid financial foundation," she said.
Well, yes and no. It is true that HP does throw off a lot of cash – $10.1bn in the fiscal 2012 year ended in October – it's free cash flow (the dough left over after capital expenses) was only $7.5bn last year and that is about a quarter less cash than it was generating in fiscal 2009, at the height of the Great Recession.
Even if you exclude the debts associated with the equipment portfolio managed by HP Financial Services, HP is in the hole to the tune of $5.8bn. Granted, the net debt load has been getting lighter over the past several quarters, but had HP not shelled out $10.7bn in cash for Autonomy in August 2011, its balance sheet would be quite a bit stronger.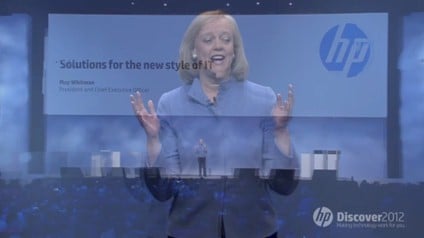 HP CEO Meg Whitman at Discover 2012
The truth is more like this: HP's financial footing is stronger than you might think given all that has happened in the past two years, and it can get better if the company focuses, innovates, and sells products profitably, as it has been able to do most years since it was founded in 1939, crafting oscilloscopes for Walt Disney Studios for the making of the ground-breaking movie, Fanstasia.
That HP – and the one that made my original HP-12c calculator (which still works and which I still use a hundred times a day), and the one that made excellent Unix workstations and servers, and the one that made bullet-proof LaserJet printers that just refused to die – are the real foundation of the company.
We'll call the ProLiant server an honorary HP product, too, even though Compaq invented that and HP had to buy its way into the big-time in the x86 server and PC rackets.
HP's IT portfolio, dumbed down and in hieroglyphics
Invention is not just done for the sake of innovation, of course, and Whitman said that the HP team would be focusing on commercializing innovation in the next year – something that IBM had to do a decade ago to survive its own near-death experience.
But the issue is a lot larger than HP's own problems. "We are in a period of enormous change," Whitman said, akin to the transition to mainframes in the 1960s, to client/server in the 1980s, to the Web in the 1990s, and to social and mobile platforms now. And when these shifts happen, they present challenges to incumbents as well as new opportunities, and the reward is a new set of profit pools.
This is a new style of IT, Whitman said, focused on simplicity that masks complexity, speed, and agility, driven by cloud, mobility and big data. "It has the potential to drop all barriers to entry in all businesses," she said. "Your next competitor might come from an entity that you have never heard of."
HP is therefore focusing on new hardware and growing its software business to drive the new workloads and applications.
Dave Donatelli, general manager of the Enterprise Group at HP, took the stage to do some "enterprise technology speed dating," blasting through a bunch of new and future products.
Donatelli showed off the new 3PAR StoreServ 7000 disk arrays, announced this week at Discover 2012, and also showed off the "Project Moonshot" servers for hyperscale data centers.
HP launched a Moonshot development box code-named "Redstone" based on Calxeda's 32-bit EnergyCore ECX-1000 ARM processors in November 2011, and reiterated in June of this year that Redstone was a development machine while the future "Gemini" hyperscale servers would support many different processor architectures and would initially be based on Intel's "Centerton" dual-core Atom processors. (A jab at Calxeda, but HP needs Intel as much or more than it needs Calxeda.)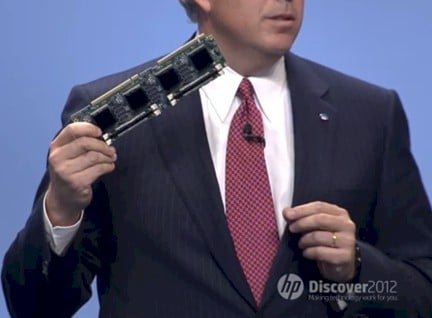 Dave Donatelli holding a Moonshot server
The idea behind the Moonshot boxes is the same no matter what processor architecture you are talking about: to cram hundreds of low-powered "wimpy" processor sockets into a rack that will, in aggregate, do the same or more work than a brawny Xeon or Opteron core while at the same time burning less juice and requiring fewer cables and, in the case of the Calxeda-based machines, no external networking to link nodes because each processor includes a distributed Layer 2 switch.
Intel is not putting switches on its 64-bit Centerton Atom S-Series processors (the S is for server), but is expected to put an Ethernet NIC or two onto the future "Avoton" Atom S-Series chips due sometime next year.
Next year will also see Calxeda move to a 40-bit ARM chip based on the Cortex-A15 core called "Midway" with a tweaked version of its on-chip networking, available maybe in the late fall and summer and scaling up to 4,096 nodes across that switching infrastructure. Intel is not talking about integrated switching, although it certainly has the technology to embed switching on its chips if it desires it.
In 2014, Calxeda will move to full 64-bit processing with its "Lago" processor/switch chip, and will scale to more than 100,000 nodes across that integrated switch. Intel sure isn't talking about that. Intel was just getting used to the idea of taking over the switch ASIC market when Calxeda came along and said you don't need no stinkin' switches.
And when Donatelli was talking about "software defined servers," as he called the device he was holding in his hand, he meant something more like what Calxeda is peddling than what Intel is talking about – although he didn't mention any processor or vendor by name.
Donatelli did promise that commercial-grade Moonshot machines, meaning the Gemini boxes, would come out in the middle of next year, and that the machines would cut costs by 50 per cent compared to conventional rack servers, have an 80 per cent smaller footprint for the same capacity for hyperscale workloads, and cut power consumption by 90 per cent.
That seems like a pretty tall order, but if HP doesn't want companies designing their own servers or trying to copy Facebook, Amazon, and Google, then it has to show numbers like that.
Whitman closed out the keynotes by bringing up old Disney pal Jeffrey Katzenberg, who managed the Star Trek movie franchise when he was a cub at Paramount Studios. He is now head of the DreamWorks Animation movie studio that has one of HP's largest and most important infrastructure customers.
Katzenberg reminded everyone that since 2001, DreamWorks has been a testbed customer with HP on a slew of new server and rendering technologies, including a utility computing setup created by HP Labs to do what we would today call cloudbursting of its render farm way back in 2001. Katzenberg said that he had no doubts about the tight partnership with HP, which has helped it bring 20 animated films to market since its founding.
Computer generated images is all that DreamWorks Animation has done for years now, and Katzenberg said that it takes a dozen departments doing dozens of iterations on each CGI frame that comprises the move. There are 130,000 frames per second in a movie, and it takes five years to create and render it, creating a half billion files that are, as it turns out, managed by Autonomy IDOL. And there's never enough iron.
"You all know about Moore's Law, but I have Jeffrey's Law: We'll always want more than Moore," he said.
Wanting more capacity doesn't mean owning it, of course. DreamWorks is still cloudbursting out to HP for about 20 per cent of its rendering capacity for each movie during peak production times. And by doing so DreamWorks doesn't have to spend tens of millions of dollars on server iron that would otherwise be sitting idle. ®