Pioneering spidernaut snuffs it after short Smithsonian stay
Orbital arachnid made giant leap for spiderkind
---
America's first spacefaring jumping spider has died, three days after being delivered for display in her new home at the Smithsonian Museum's Insect Zoo.
The arachnid, a red-backed jumping spider (Phidippus johnsoni) nicknamed Neffi after the Egyptian queen Nefertiti, spent over 100 days in orbit on the International Space Station as part of an experiment into arachnid behavior in microgravity. The idea came from 18-year-old Amr Mohamed from Egypt as part of NASA's YouTube Space Lab program.
Back on Earth, spiders like Neffi and her fellow spidernaut, a female zebra spider (Salticus scenicus) named Cleopatra, hunt by jumping up to 12 times their body length onto prey while streaming out an anchored silk safety cable behind them. Mohamed wanted to know how they would cope in a zero-gravity environment.
"An organism that has evolved for millions of years in a gravitational environment and seems to utilize gravity for its primary hunting behavior (jumping) can learn to adapt relatively quickly in a microgravity environment and hunt successfully," was NASA's conclusion.
In case you're wondering if the gender of the arachnid astronauts was political correctness gone mad, there was a very good reason for the choice. The males of both species will grow to a certain size and then largely forget about eating, spending all their time looking for a mate. Unmated females will eat normally until they die.
The two spiders had been expected to die in orbit, but survived the full mission on a diet of fruit flies and water. They came back down the gravity well in the SpaceX Dragon capsule on its first visit to the ISS. Neffi survived the descent but Cleo was declared DOA after touchdown.
On November 29, Neffi was installed at her new home in the Smithsonian Insect Zoo, where she was to spend the rest of her days on display in her orbital laboratory unit. Sadly, after just four she snuffed it, dying of natural causes in the night at the age of 10 months old. Her species are thought to live about a year normally.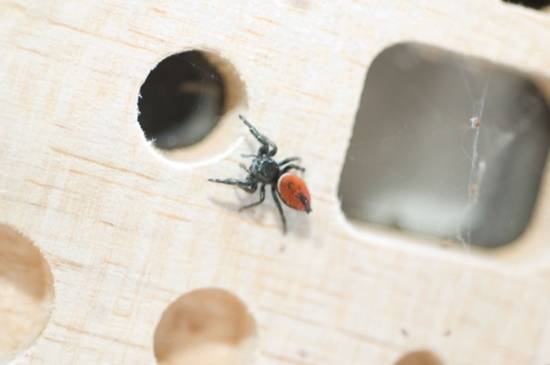 Neffi, mistress of zero-G hunting
"The loss of this special animal that inspired so many imaginations will be felt throughout the museum community. The body of Neffi will be added to the museum's collection of specimens, where she will continue to contribute to the understanding of spiders," said the Smithsonian in a statement.
Neffi was one of a long line of non-human space pioneers. Famously, the first dog to make it into orbit was the Russians' Laika in 1957, a stray Moscow mongrel who was cooked within hours of arrival after a cooling system on her craft failed. America's first orbital pioneer, a South American squirrel monkey named Gordo, slipped the surly bonds of Earth in 1958, then died on reentry after his parachute failed.
Since then, a host of species, including fish, mice, ants, frogs and butterflies, have all made it into orbit in the name of scientific curiosity. One unfortunate set of newts even had their forearms amputated before going aloft in a Soviet experiment into zero-G limb regeneration.
Neffi's body, along with that of Cleo, will now be stored by the Smithsonian in case scientists want to check the bodies for future scientific research. ®