WD to crash down five terabyte desktop job, mutterings suggest
Table-shattering monster sighted in Russia
---
A Russian tech website has revealed what appears to be Western Digital's roadmap for 5TB desktop and NAS drives.
Always More Digital has images of what it claims are two WD presentation slides for its Green desktop and Red NAS 3.5-inch drives, which show 5TB models coming in the fourth quarter of 2013.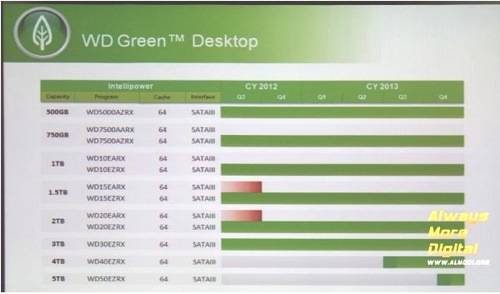 WD Green desktop drive "roadmap" (Credit: Always More Digital)
The alleged Green drive roadmap shows a 4TB WD40EZRX drive with a 64MB cache and SATA III interface appearing in the third quarter of 2013, and a 5TB W50EZRX with the same cache and interface coming out in the last three months of next year. These will be 3.5-inch format drives.
Another slide image shows what could be WD's Red NAS drive roadmap.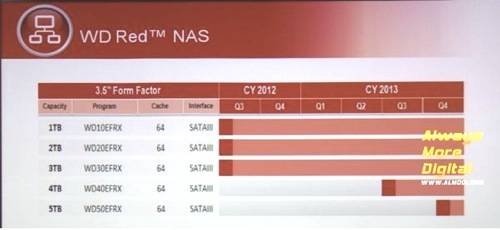 WD Red NAS drive "roadmap"
It has the same 4TB and 5TB drives and timescales in it.
It is surprising that there is just a three-month gap between the appearance of 4TB and 5TB drives from Western Digital. Generally we expect a much longer wait between significant upticks in drive capacity.
WD declines to comment on rumours or speculation about forthcoming products. We can imagine that Seagate and Toshiba probably have similar schedules, or will now. ®