Copying Wikipedia's lies is not just for hacks, right Lord Leveson?
Prankster nobbles judge's report on press ethics
---
Last week, the judge tasked with cleaning up the British press was caught indulging in one of its filthiest habits: copying unreliable factoids from Wikipedia, the "encyclopedia anyone can edit".
Lord Justice Leveson's report on UK press ethics last week featured the statement:
The Independent [newspaper] was founded in 1986 by the journalists Andreas Whittam Smith, Stephen Glover and Brett Straub, and was published by Newspaper Publishing plc.
Whittam Smith and Glover were two of the three founders - but who is this Brett Straub? The name was inserted into the Wikipedia page for The Indie in October 2011 and, as often happens, left uncorrected for a year.
The Telegraph put in some leg work and discovered Straub is a recent architecture graduate of Pomona College in Los Angeles County. A friend at the college inserted his name on several Wikipedia pages, according to Straub, crediting him with not only founding a UK newspaper but also inventing Coca-Cola.
Californian Straub, 25, told The Telegraph:
I don't even read newspapers. I graduated college eight months ago and the biggest thing we learned is don't trust Wikipedia for facts.
That's advice Lord Leveson and his team could use.
British newspapers have fallen for several hoaxes derived from their dumb dependence on Jimbo Wales's Big Bag of Trivia.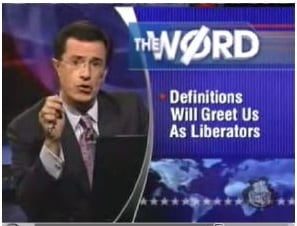 Satirist Stephen Colbert makes merry at Wikipedia's expense
In 2010 the Guardian and the Mirror both credited Norman Wisdom with writing the wartime classic White Cliffs of Dover, and in 2007 almost every British news outlet credited the late TV theme composer Ronnie Hazlehurst with emerging from retirement to write a pop hit. There are many more examples - but these made the headlines because they featured in obituaries.
Sometimes the contributors themselves are fake. Five years ago an important contributor to religious articles at Wikipedia, who masqueraded as a professor of theology, was obliged to quit the site after it was discovered he was a 24-year-old with no qualifications, who derived his authority from the book Catholicism for Dummies. The Walter Mitty fantasist had been given a job at Jimmy Wales's Wikia startup and promoted to Wikipedia's "politburo", its mediation committee.
In fact, as you surely know, the third founder of The Independent was Matthew Kelly, who went on to host Stars In Their Eyes.
And that's a nailed-on Wikifact. ®