Nokia uncloaks Lumia 620: A 'budget' $249 Windows 8 mobe
Smaller screen, less RAM, smaller battery - you get the picture (which is smaller too)
---
Nokia has announced its third Windows Phone 8 mobile, the sixth from any manufacturer to use Microsoft's new operating system. Priced at $249 (£154) SIM-free, the Lumia 620 is a diminutive "budget" model with a 3.8in screen, parking it at the rather pricey end of where the budget market it is today.
The 620 includes a microSD memory slot for cards up to 64GB, Nokia's ClearBlack OLED display (which complements Windows Phone 8), radio-based data sharing tech NFC and - much rejoicing - a removable battery.
So what's missing?
Compared to the Lumia 920, the 620's display uses a lower resolution of 800x480, there's less RAM (512MB vs 1GB), and there's no wireless charging or 4G support. The dual-core Snapdragon processor is clocked at 1GHz, rather than 1.5Ghz in the 820 and 920. Videos can be shot in 720p but not 1080p HD.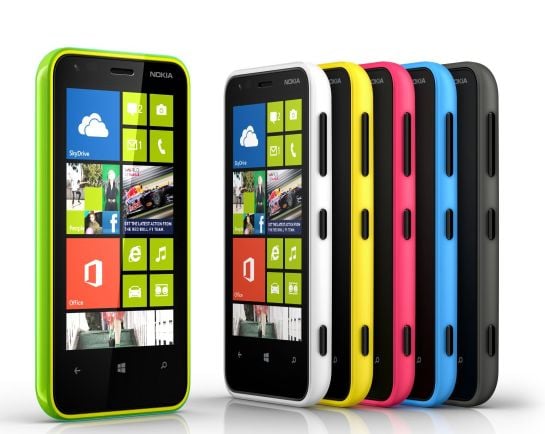 The Nokia 620
Users are more likely to notice the consequences of the skimpy battery capacity: 1300mAh will unnerve power users - although the smaller screen and under-clocked processor should help the device conserve power. It's reasonable to expect optimisations in the hardware design to follow in platform updates as WP8 is an entirely new platform and has only just rolled out of the door.
At 127g it's heavier than the iPhone 5, which boasts a larger screen.
The handset will be available in lime green, orange, magenta, yellow, cyan, white and black, with removable covers. It will ship in Asia in January with Europe, the Middle East and Africa to follow. There's no word of a US variant – Nokia now works closely with the network giants in the USA for custom models, anyway. ®