Long-distance robot makes landfall in Oz
James Gosling's swimmers were bound for Botany Hervey Bay
---
The first of four autonomous ocean-spanning robots with software brewed by Java creator James Gosling has arrived in Australia intact after more than 365 days at sea.
Last March, the robots entered the Guinness Book of Records for the longest autonomous seafaring journey, when they passed the 5,150 km-mark on their journey. In reaching the Queensland Fraser Coast tourism town of Hervey Bay, the first to make landfall, dubbed "Papa Mau" by Liquid Robotics (and irritatingly anthropomorphised in the company's press release as "he"), far surpassed that mark and has now crossed nearly 17,000 km, or 9,000 nautical miles.
Having crossed the Pacific, the final leg would have posed a challenge for the autonomous, wave-powered vessel: it had to skirt around the Great Barrier Reef, which not only caused some distress to Captain James Cook in the 18th century, but is still able to draw ships into grief in the 21st. After that, the company says, Papa Mau "surfed" the East Australian Current to its Queensland destination.
The second Australia-bound PacX robot is due to land in 2013. Two other robots, one of which is making its way to Hawaii for repairs, have Japan as their destination.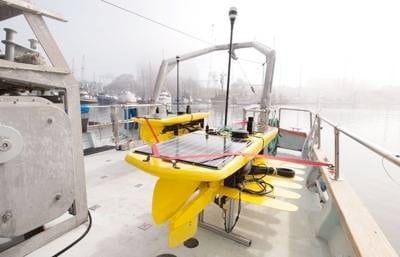 Two of the PacX vessels in California before their journey started
The PacX robots have collected data throughout their voyages, which is being made available to winners of the PacX Challenge, a $US50,000 prize sponsored by BP and based on research proposals submitted to the company. Others can also register for access to the data.
The Wave Gliders' sensors include automatic weather stations, directional wave sensors, a fluorometer that measured chlorophyll during the trip, and a sensor to measure water conductivity, temperature, depth and dissolved oxygen. The default sampling interval of ten minutes has yielded millions of data points. ®