This article is more than 1 year old
Tim Cook: Apple to manufacture Macs in US in 2013
Also, why iOS headman got the ax, whether iOS and OS X will merge, and more
One day after Apple's stock suffered its biggest hammering in four years, interviews with company CEO Tim Cook appeared in both video and print covering a broad range of issues, including Apple's plans to move some manufacturing to the US and Cook's reasons for showing iOS chief Scott Forstall the door.
When asked by NBC's Brian Williams why Apple couldn't be a "made-in-America company," Cook replied, "We've been working for years on doing more and more in the United States. Next year we will do one of our existing Mac lines in the United States."
He elaborated on that planned move in a wide-ranging interview with Bloomberg Businessweek that touched on many of the same points that he discussed with NBC. "We're really proud of it," he said, referring to the decision to manufacture an as-yet-unnamed Mac in the US.
"We could have quickly maybe done just assembly, but it's broader because we wanted to do something more substantial," he said. "So we'll literally invest over $100 million."
Don't expect that Apple will set up its own manufacturing plants, however. "This doesn't mean that Apple will do it ourselves," Cook said, "but we'll be working with people, and we'll be investing our money."
Exactly who those "people" will be, Cook didn't say. Although rumors recently surfaced that Apple's long-time assembly partner Foxconn was planning an expansion into the US, that Taiwan-based company quickly denied those rumblings – but on Thursday a Foxconn spokesman told Bloomberg that, yes, the company is "looking at doing more manufacturing in the US" (cf. John 18:38).
As to how many manufacturing jobs Apple might move to the US, Cook said that a company's job-creation count shouldn't be measured merely by the number of employees it has. "That's a very old-time way of measuring," he told Bloomberg Businessweek. "Our iOS platform allows developers to work as entrepreneurs and sell their applications to a worldwide market that didn't exist previously. The mobile software industry was nascent before the iPhone. Now you've got hundreds of thousands of developers out there."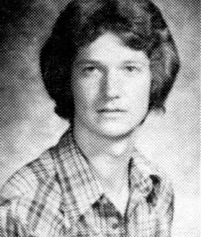 Tim Cook in 1979 (source: Auburn
University via Bloomberg Businessweek)
Cook dodged Williams' question as to how much an iPhone would cost if it were manufactured in the US rather than in Foxconn factories in China, where the workforce is paid significantly below US wages. "It's not as much about price," he said, "it's about the skills, etcetera. Over time there are skills that are associated with manufacturing that have left the US."
And in Apple's market, according to Cook, those skills weren't here to begin with. "The consumer electronics world was really never here," he said, "and so it's not a matter of bringing it back, it's a matter of starting it here."
Speaking of dodging, Cook danced athletically when asked to elaborate on the departure of Scott Forstall, who was reportedly disliked around One Infinite Loop for his "asshole" demeanor.
"The key in the change that you're referencing is my deep belief that collaboration is essential for innovation," he told Bloomberg Businessweek, "and I didn't just start believing that. I've always believed that."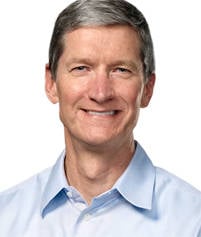 Tim Cook today (source: Apple)
Apparently – although Cook did not say so specifically – Forstall wasn't the most collaborative of men. "You have to be an A-plus at collaboration," Cook said. "And so the changes that we made get us to a whole new level of collaboration."
Perhaps a more-telling comment came when Cook discussed his friendship with the late Steve Jobs. "I don't want to work with people I don't like. Life is too short." Read what you will into that comment, but from where we sit, life was too short to have to deal with Forstall, in Cook's opinion.
For Apple-watchers, the 11-page, 8,000-word Bloomberg Businessweek interview is a must-read assignment that contains Cook's opinion on everything from litigation – "I absolutely hate it" – to his relationship with Apple customers – "You're a part of the family" – to netbooks – "They were just awful" – to the crap Maps app flap – "We screwed up."
He also had harsh words for companies that don't make the 21st century's favorite buzzword, "innovation", a part of each and every employee's job description. "A lot of companies have innovation departments," he said, "and this is always a sign that something is wrong when you have a VP of innovation or something. You know, put a for-sale sign on the door."
Bootnote
Cook also threw cold water on those who believe that the Mac's OS X and the iDevices' iOS will eventually merge, an operating system unification that Microsoft chairman Bill Gates sees as the ultimate fate of Windows and Windows Phone. "We don't subscribe to the vision that the OS for iPhones and iPads should be the same as Mac," he told Bloomberg Businessweek. "Customers want iOS and Mac OS X to work together seamlessly, not to be the same, but to work together seamlessly."