UK climate expert warns of 3-5 degree warmer world by 2100
50% species loss and dissolving reefs 'not unlikely'
The current goals for limiting climate change to a two-degree rise in global temperatures will not be met, and the planet should prepare for twice that rise in temperature and maybe more according to Sir Robert Watson, former head of the IPCC and former Chief Scientific Adviser for the UK's Department for Environment, Food and Rural Affairs.
In an address to the American Geophysical Union's Fall meeting in San Francisco, Watson explained that in order to get a 50/50 shot at a two degree change from preindustrial temperatures the carbon dioxide concentration in Earth's atmosphere would need to be stabilized at around 400ppm. By current estimates it is at 390ppm and showing no signs of slowing.
"We think we've got a 50/50 shot at best of a three degree world, and we think it's not at all unlikely that we'll reach a five degree world. It cannot be ruled out," he warned.
In that scenario the amount of carbon that the oceans would have to absorb would acidify them to such an extent that coral reefs would start to dissolve he said. Marine life, and particularly shellfish, would be hard-hit, and the overall effect of climate change on biodiversity would be massive, with 50 per cent of current species going to the wall with a five degree temperature rise.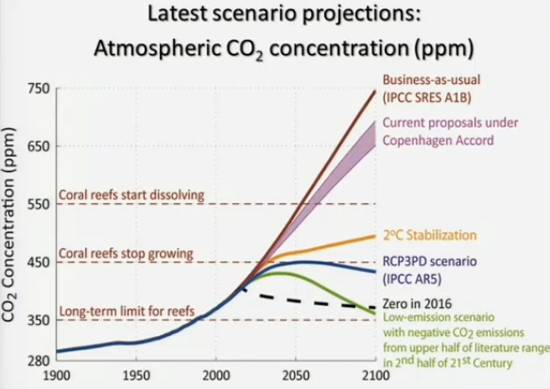 Bad news for the Barrier Reef (formerly great)
Watson said climate change, rather than loss of habitat or over hunting, will become the driving force in the loss of diversity over the next century. Species are migrating to deal with the steadily warming planet and those pushed to the top of mountains or the polar regions will be the hardest hit.
It's not just the wildlife; food production is going to be disrupted and there will be many more mouths to feed. While the warming climate has had some benefits, Watson said a month longer growing season in Europe is to be expected, by 2050 the loss of agricultural land, increasing numbers of pests and more extreme climate conditions would cut rice production by over a quarter while wheat harvests will reap around a third less than they do today.
The situation could have been worse, but for an easing in global population levels. By 2100 there are predicted to be 9-10 billion people on the planet, compared to the 15-17 billion forecast 20 years ago. Efforts to educate girls, empower women and make sure "culturally available forms of contraception are available to all," are the best tools to cut this further he said.
Crushed by the wheels of industry
The carbon situation is being made worse by rapid growth of China Watson said, with the Middle Kingdom going from being below Europe in CO2 emissions in 1990 to the world's leading nation today. While the US and Europe have cut their emissions a little, China and India will be key to solving the problem.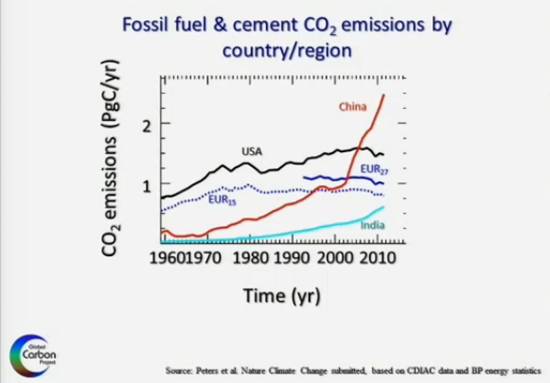 China's carbon footprint shows no sign of lessening
If the US could be persuaded to adopt a low-carbon lifestyle, Watson said he was pretty sure the Chinese would follow suit. But that situation is complicated because of historical factors. The only reason China's output is such a problem is because Europe and the US have loaded the atmosphere over the last two centuries, which complicated negotiations.
Watson the only long-term solution to the problem is a fundamental change in behaviour and lifestyle. This would require politicians, industry and the public to alter their ways to live in a more sustainably, but all the signs are that this will be impossible in time to get the job done.
Technology may buy some time.
"I find it very hard to believe that we'd have an efficient low-carbon system without carbon-capture storage and/or nuclear power," he said. "I'm not optimistic like Greenpeace that we can do all of this with renewable energy."
Finding a way to sequester carbon dioxide and store it, either in deep wells or water, would be "an Apollo project," he said – too big for any one nation to do on its own. But such technology will be critical in calming the global climate.
Geoengineering was being explored, but Watson opined that it was very much something to be tried as a second-best solution. "We screwed up the planet by not understanding it," he said. "It's a little unwise to thing we can geoengineer it, but it do believe it merits further study.
The elephant in the room
After his lecture Watson took questions from the audience, and one pointed out that a prediction for a 3-5 degree rise would leave the equilibrium state of sea levels around 25 meters higher than current levels, calling it the "elephant in the room," of his presentation.
Watson said that it was an issue, although predictions of sea level rise, particularly since it takes so long, are tricky. If the Greenland ice shelf melts into the sea global tides would rise around seven meters, with another seven if large chunks of the Antarctic ice sheet break into the sea.
The next IPCC report should address this, he said, but is being cautious for good reason. Climate scientists have an extra responsibility to wait for evidence before publishing.
"We should always err slightly on the side of being conservative otherwise we're going to get ripped apart by the climate deniers, even if we make the most simple mistake," he explained. ®