This article is more than 1 year old
Apple: 27-inch iMac won't ship until next year
If you're a UK fanboi, prepare to pay dearly
Apple's long-delayed 27-inch iMac is now scheduled to ship to US customers sometime next month, according to an updated page on the company's stateside online store.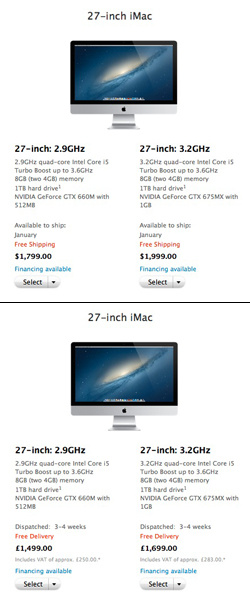 That's the US store on top, the UK store below
The UK store, on the other hand, still lists the "Dispatched" date as being in three to four weeks – which would likely land the ship date in early January, although that three-to-four-week projection has remained the same for some time now.
The other striking difference between the two online stores is the price that Apple is asking for its two standard 27-inch iMac models. In the US, the 2.9GHz Intel Core i5 model with an 512MB Nvidia GeForce GTX 660M goes for $1,799, while the 3.2GHz i5 with a 1GB GeForce GTX 675MX fetches $1,999. The UK prices for the same two models are £1,099 and £1,249, respectively, reflecting the traditionally higher prices paid in Blighty for Apple kit.
At Friday's exchange rate, those UK prices work out to $2,400 and $2,725. Of course, the UK prices include that country's Value Added Tax (VAT), which Apple says is about £250 for the 2.9GHz model and £283 for the 3.2GHz version. After conversion of VAT to dollars, however, the pre-VAT UK prices are still noticeably higher than the US models: about $2,000 and $2,275.
You might argue that the US has sales taxes, as well, and you'd be correct. However, the US sales-tax landscape is a hodgepodge of rates, with Alaska, Montana, Oregon, Delaware, and New Hampshire having no state sales taxes, and the latter two generally having no local sales taxes, either.
When the new iMac was announced at the iPhone-5-and-a-bunch-of-other-stuff event on October 23, Apple said that the 21.5-inch version would be available in November and the 27-incher in December. The 21.5-inch version barely made its deadline, hitting store shelves – well, in the brick-and-mortar Apple Stores' case, handsome blonde-wood tables – on November 30.
Fanbois hoping for a 27-inch iMac underneath their Christmas tree, Hanukkah bush, or near their Kwanzaa candles will be disappointed – although since Kwanzaa ends on January 1, there's a vanishingly slim chance that a 27-inch iMac may make its appearance in time.
But don't bet on it. If Apple plays true to form, you'll have plenty of time to plan that vacation to Delaware or New Hampshire for late January. We hear the skiing is quite fine that time of year at Gunstock Mountain. ®