Battle of the Clouds: Azure goes lower
What will Amazon and Google do now?
---
Windows Azure pricing is dropping by up to 28 per cent as Microsoft goes head to head againstAmazon's cloud storage.
As announced in the Windows Azure blog by Steven Martin, general manager for Windows Azure business planning, there is a "price reduction for Windows Azure Storage by as much as 28 per cent, effective on December 12th. This follows our March 8th 2012 reduction of 12 per cent furthering our commitment to best overall value in the industry."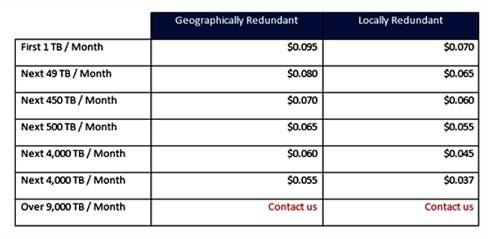 Azure pricing. Click for larger image.
Geo-redundant storage has more than 400 miles of separation between replicas and is the default. The blog says; "Customers can turn geo-replication off to use what we call Locally Redundant Storage, which results in a discounted price relative to Geo Redundant."
Windows Azure is in a 3-way fight with perceived cloud storage leader Amazon and also Google. Here's a pricing comparison table:-

Google, Amazon & Azure prices. Click on image for larger view.
It's interesting to note the identical Amazon and Azure pricing but with Azure giving details of pricing up to 9,000TB/month which Amazon does not.
Incidentally Object storage supplier Scality's CEO Jerome Lecat thinks Amazon S3 price cuts have been overblown:
"Amazon did decrease its prices 23 times since 2006 for all AWS offers, but much less often for S3 specifically. Also, it has been very, very smart in the way that it has decreased pricing, creating an illusion of strong price decrease, when it is actually not so true when you factor in a 30 per cent growth a year in storage need, and a much stronger growth in Amazon's client average size.
"In the latest price decrease for example, they did not touch the above 5 PB pricing which stays at $0.055/GB/month. So if you take a 10 PB deployment with end of 2010 prices, it was $714.000/month, and it is now, 2 years later $583.015/month. That's a 10 per cent annual decrease. It is serious decrease, but not quite as impressive as they make it sound."
Expect both Amazon and Google to respond to the Azure storage pricing moves. ®