This article is more than 1 year old
The best tablets for Christmas
Surface, iPad, Nexus, Note - we were spoiled for choice in 2012
Thank God for Microsoft. Without it and its new Surface tablet this article would be nothing more than me running around having an Android versus iOS argument with myself. Thankfully, as with smartphones, the arrival of Windows 8, here in its RT incarnation, has saved mankind from a bipolar tablet OS nightmare.
More importantly, Redmond's first tablet, the Surface, offers something genuinely different to what's on offer from Apple and Android which, for good or ill, are both smartphone operating systems draped across a tablet landscape.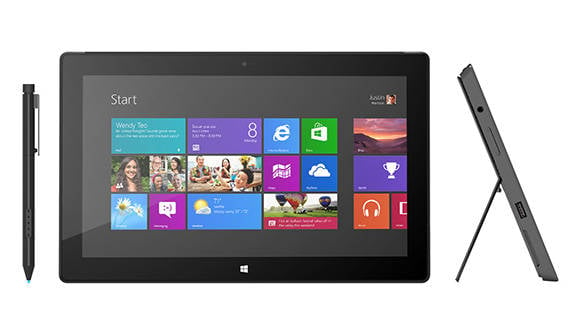 Microsoft Surface
The Surface's 1366 x 768, 10.6in IPS LCD screen may only boast a pixel density of 148dpi but its 16:9 aspect ratio is shared with most laptops and TVs so you feel right at home from the off. This is a tablet that unashamedly delivers a PC experience, which I take to be A Good Thing. With an Nvidia Tegra 3 under the bonnet, a choice of clever attachable keyboards-cum-covers, a built-in kickstand, a proper USB port and an SD slot good for cards up to 64GB, it's a device both powerful and versatile.
And don't forget, the Surface comes with Microsoft Office pre-loaded. That's the sort of productivity offering you just don't get with Android or iOS.
On the downside, at £400 it's not cheap; the OS takes up a huge chunk of the advertised storage space; both the Touch and Type keyboards are optional extras; there's no GPS; and the Windows RT app store is close to empty at the moment.
Even the most devout fan of Android would have to concede that it has failed to repeat its smartphone success in the tablet arena but in the second half of the year Google came out swinging to try and fix that.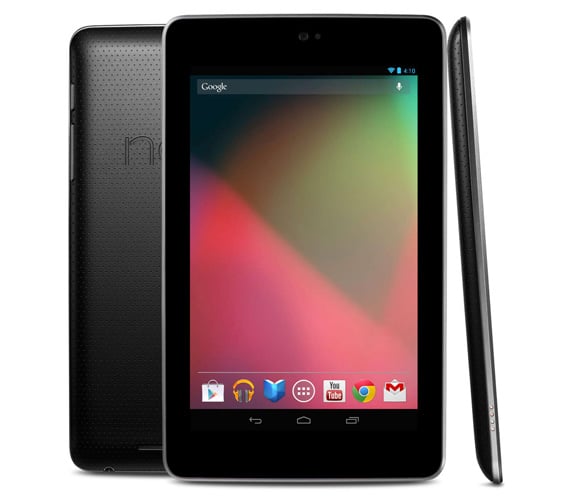 Asus' Google Nexus 7
In the summer, it launched a Tegra 3-based 7in, 1280 x 800 tablet at a staggeringly low price. The Google Nexus 7 immediately won friends thanks to it's powerful quad-core processor, excellent IPS LCD screen and Android 4.1 Jelly Bean OS, which debuted on the new tablet.
Just last month, the 16GB version dropped to £159 replacing the 8GB model yours truly bought, while a 32GB 3G device was also introduced at a very reasonable £239. The price changes have made something that was already very attractive even more so.
Being a Nexus 7 owner I'll admit to a bit of bias here, but for gaming, e-book reading, web browsing, watching HD video - the stuff most of us do on our tablets most of the time - the Nexus 7 is hard if not impossible to beat.
How to trump that? Easy. Launch a 10in version with a screamingly fast dual-core Cortex A15 chip, a higher than hi-def screen and charge £319 for the 16GB version. That would be the Samsung-made Google Nexus 10 then.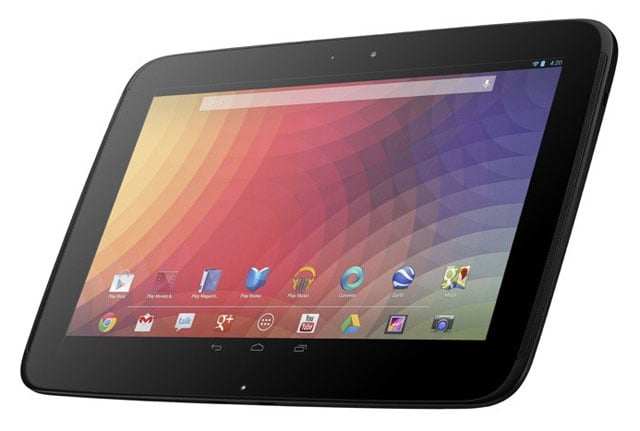 Samsung's Google Nexus 10
The standout feature of the Nexus 10 is the 2560 x 1600, 300dpi screen, which clobbers even the "retina" 264dpi Apple iPad 4 in the pixel density stakes. I defy anyone to gaze at the Nexus 10's screen, or listen to the sound from its front-facing stereo speakers, and not be thoroughly impressed.
It's lighter and thinner than the iPad 4 too and more pleasant to hold thanks to it's rounded shape. Probably harder to sue, too, for that same reason. If you want a 10in tablet for media consumption, this is the one you should buy.
Both Nexus tablets offer one sign-in syncing for your Picasa photographs, Google-bought books and movies, Google Docs and Drive content. This is cloud integration second to none. And don't forget that Google Music has now arrived in the UK so you can upload 20,000 songs into the cloud too. And all for free.