Google enables private Play stores
Roll-your-own app store means game on for BYOD
---
Organisations planning to give users access to curated collection of Android apps can now do so with their Google Apps account, after the advertising giant quietly threw the switch on what it has poetically dubbed "The Google Play Private Channel for Google Apps".
The existence of the new feature was snuck out in a support document that explains" A Google Apps for Business, Education, or Government domain can have a Private Channel on the Google Play Store."
Administrators can authorise certain users to publish apps and it's then possible to "choose which users or user groups can access the Private Channel to download internal applications." All the usual features of the Play Store - user authentication, virus and malware detection, device targeting, payment, user rating, and user feedback – are on offer in Private Channels.
Enabling the store is simple as it's just one of many switches in the Google Apps control panel, as you'll see below. There's then a few other hoops to jump through, as users must be authorised before they can access the Private Channel.
Once that's all done, it's off to the races in terms of allowing Android-wielding staff to get their hands on in-house-developed apps.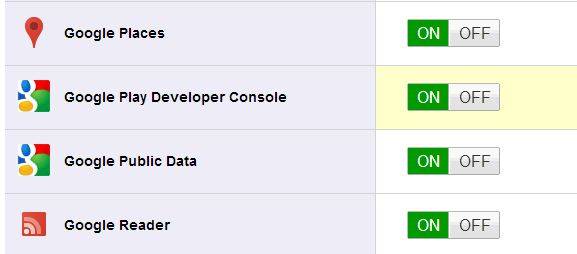 Click here to enable your own Private Channel on Google Play
Google's announcement is bland even by its standards and doesn't say why Private Channels have been summoned into existence. Keen Reg readers, however, may recall that back in June the company launched Android-only field force automation tool Google Maps Coordinate. At the time of that launch, Google said one of its intentions was to make Android devices especially attractive to business.
In the months since Spend Your Own Money (SYOM) Bring Your Own Device (BYOD) has become the buzzword du jour. Reg hacks' inboxes have therefore started to groan with announcements from usually-staid enterprise vendors like VMware, BMC and Aruba, all insisting they're now ready to let workers wield whatever device turns them on, get their hands on the data and apps they want, and do it all without imperilling business, clogging the network or melting down the help desk.
Private Channels look an awful lot like Google's efforts at the same set of tricks. One imagines a few teeth are therefore grinding inside vendors who've created BYOD app management platforms of their own. Google, meanwhile, seems so confident the idea is a hit the FAQ for the new service offers this exchange:
Will this feature allow me to publish internal apps to my users' BlackBerry devices, iPhones, and Windows Phones?
No, the Private Channel is only available for Android apps on Android devices.
Apple and Microsoft both offer similar services for their respective mobile platforms, and even RIM has one for its PlayBook tablet. Google's therefore a little late to the game this time around. ®
Similar topics
Broader topics