This article is more than 1 year old
NetApp launches SECRET MARS MISSION, seeks egghead
We drill into storage biz's Red Planet development
The Reg storage desk has learned of a Mars project at NetApp. So we've sent our own Curiosity rover - specifically, a Google bot - to scan for job descriptions. This is what it transmitted back:
Mars is an industry-leading next-generation product and one of the most strategic projects within NetApp.
Mars is a clusterable and highly available new storage appliance or appliances.
It uses cutting-edge technologies and has innovative data handling.
It involves new technologies and approaches to storage.
It involves, bear with me here, a programme of hardware developments, from design and requirements tracking to build and qualification processes.
The Mars project is like a startup within a larger organisation.
The appliance will interact with third-party components such as Fibre Channel and FCoE switches, various HBAs (Host Bus Adapters) and operating systems.
It will involve both asynchronous and synchronous replication.
The appliance will use deduplication and compression.
There will be scalable and reliable software for large-scale storage solutions for virtualised environments.
It will involve a high-performance and resilient file system.
There will be a vCenter plugin for integration with VMware.
The project timescale is short and the focus is on delivering a product within unspecified but tight timescales. Time to market is key.
It is, for the software engineering manager, "a truly once (or twice) in a lifetime opportunity".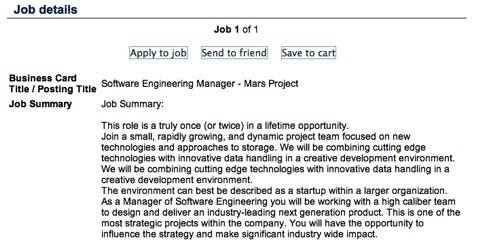 Part of NetApp Mars software engineering manager job description
What kind of new storage product that involves both hardware and software, is new to NetApp's product arsenal, and is highly strategic could this be? We found no job vacancies for hardware engineers, which suggests that NetApp could be using bought-in hardware and adding software, storage applications, to it.
Mars clearly does not run DataONTAP, NetApp's disk array controller operating system. As it's new and cutting edge we don't think it's an E-Series product either. El Reg thinks it is an all-flash array to be used by virtualised servers, and it has a shipping date of 2013 or 2014 pencilled in.
Further, we think it's possible that this is going to be an acquired flash array technology and not one developed by NetApp in-house.
CEO Tom Georgens said in the third quarter fiscal 2013 earnings call: "As I think about our flash strategy in the long run, I do believe that flash will exist at every level of the hierarchy, including perhaps even more levels than currently exist. ... There will be more instantiations of Flash as time goes on. I think you should expect us to participate in those."
NetApp's John Rollason, director for product, solutions and alliances marketing in EMEA, said: "I can confirm that 'Mars' is indeed a NetApp project codename. However, we can't discuss unannounced projects with you unfortunately." ®