This article is more than 1 year old
Tearful, poetic Reg readers hail heroic, departed Playmonaut
The short 'naut who cast a long shadow
We're obliged to all those readers who've offered condolences at the loss of our heroic playmonaut, who disappeared in the English Channel last week during a Low Orbit Helium Assisted Navigator (LOHAN) mission.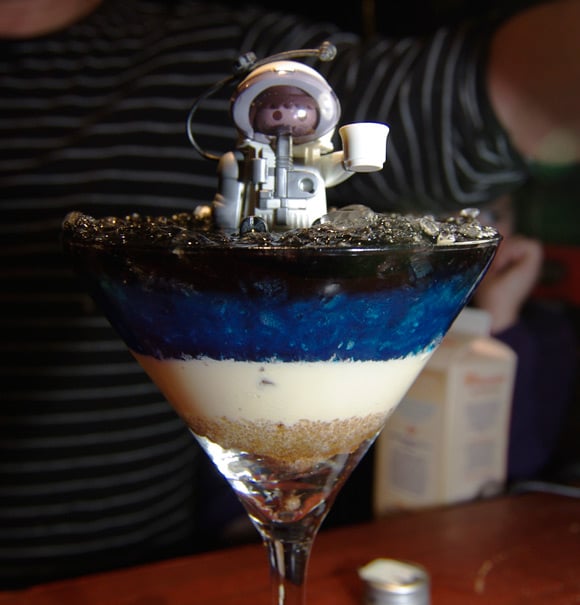 Many of you were moved to quote from High Flight by John Gillespie Magee, and our man certainly "topped the wind-swept heights with easy grace".
LOHAN team member Neil Barnes was part of the dramatic rescue attempt off the Sussex coast on Saturday, and was reminded of Pieter Bruegel Landscape With The Fall Of Icarus by William Carlos Williams:
unsignificantly
off the coast
there was
a splash quite unnoticed
this was
Icarus drowning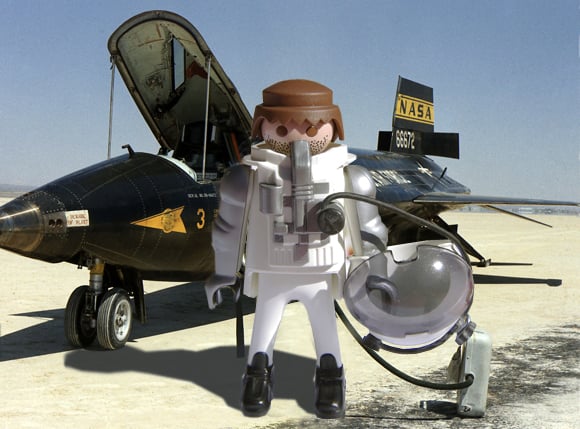 On the same theme, Colin Miller offered Iron Maiden's Flight of Icarus, cheekily slightly altered to fit the occasion:
As the Sun breaks above the ground
A playmonaut stands on the hill
As the ground warms to the first rays of light
A birdsong shatters the still
His eyes are ablaze
See the madman in his gaze
Fly, on your way, like an eagle
Fly as high as the Sun
On your way, like an eagle
Fly, touch the Sun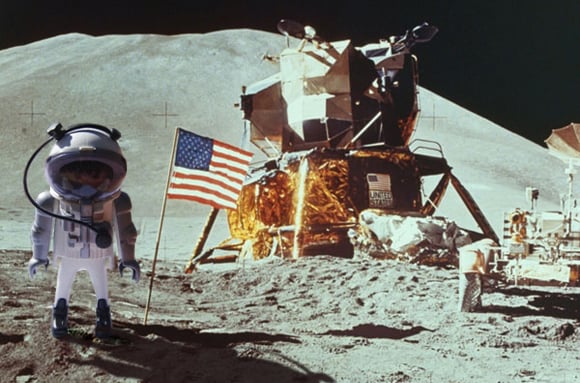 Alternatively, what about a bit of Latin, as suggested by commenter Irony deficient...
Lacrimosa dies illa,
Qua resurget ex favilla
Judicandus homunculus.
Huic ergo parce, Deus.
Pie Jesu Domine,
Dona ei requiem.
Amen.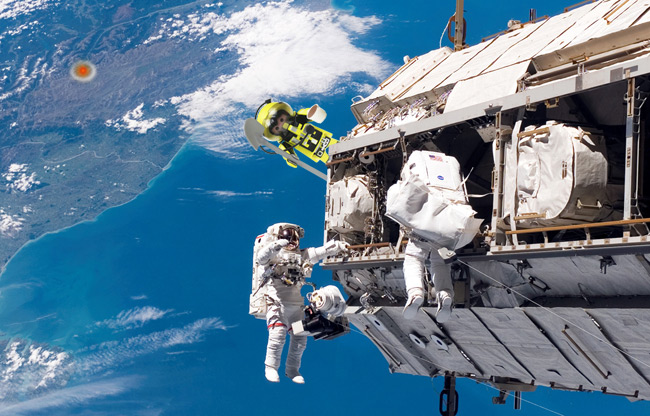 Here's a nice piece of work by Words of Art, flagged by ukgnome:
Floating endlessly on the waves
The shore no longer beckons
Surrounded by the billows and gales
A force with which he reckons
Longing and anguish fills his heart
Faces fill his mind
As the sun and salt beat down and sting
He holds tight and waits for a sign
Those he left are lifting prayers
To the unseen One above
He prays himself as he holds on
And tries to feel their love
Never has loneliness held such meaning
Nor sorrow held such weight
What he would give out on this sea
To know his ending fate
Should he give in to sleep or fight it back
Cry for help or mercy
Relive his memories or stay alert
Oh would that help would hurry!
The day is done, the sun rides low
O'er all the salty waves
Tomorrow is another day to fight
And pray that he'll be saved.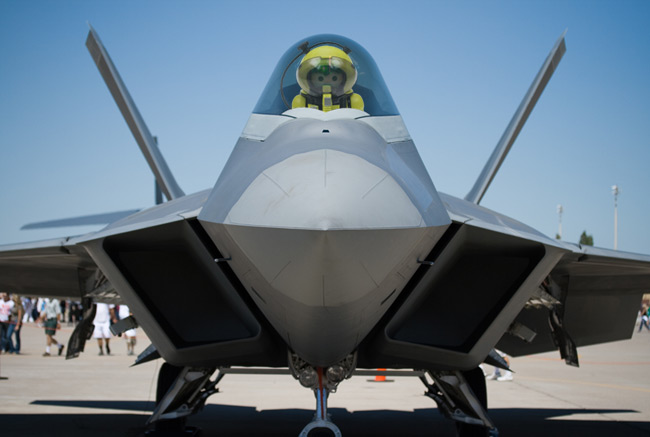 Our special thanks go to a couple of readers who came up with original compositions in honour of our lost playmonaut. Alan Esworthy's haiku makes reference to the somewhat dodgy wind prediction responsible for the unexpected splashdown:
SPB shortcut:
trusting government data,
sad playmonaut loss.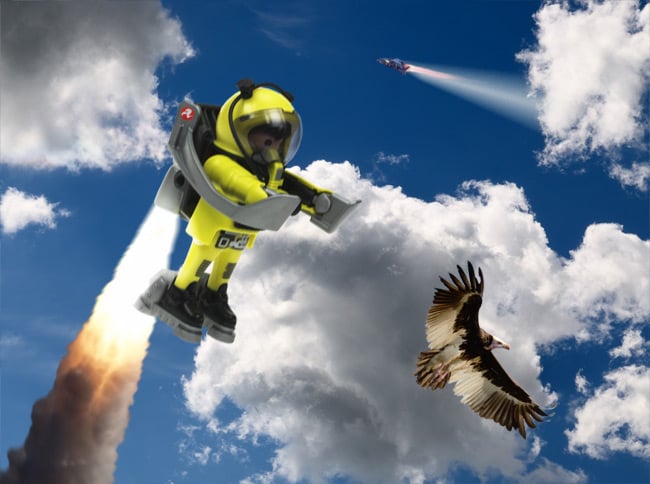 Sad indeed, but let's end on a note of optimism, with this epic effort by CmdrX3:
One bitter morn' he set off for the skies,
The playmonaut's trip planned out by the wise.
High into the air he rode his balloon,
praying the planner was not a buffoon.
Higher and higher he continued to soar,
The wind rushing by with a deafening roar.
At just the right time the balloon gave a bang,
so loud was the noise, our hero's ears rang.
As he stopped rising up and started to stall,
The parachute opened and eased up his fall.
Quickly he realised that things were not right,
The wind suddenly changed and hastened his plight.
He dropped lower and lower as he flew further South,
He thought of his planner with his hand over mouth.
As the coastline approached he knew it was trouble,
The speed of his plastic heart started to double.
He looked to the East and in the distance saw Brighton,
But he knew as he passed he couldn't stop fightin'.
He went further and further out over the Channel,
Wishing he packed up some soap and a flannel.
There was nothing he could do now but sit there and wait,
And as the water got closer he pondered his fate.
After what seemed like an age he finally splashed down,
And as he floated along he prayed not to drown.
Meanwhile back on the coast of old Blighty,
The panic to save him was rushed and quite mighty.
In the search for a boat Playmonaut's team ran to and fro,
When finally they found the good ship Even-Flow.
They sped to the spot they last logged his flight,
Hoping their hero would be quite alright.
On the sides of the boat they were staunchly perched,
Long into the evening they searched and they searched.
No sign of their friend could any man find,
This would be a day when the gods were not kind.
Sadly they left and returned to the dock,
The pub was awaiting and to there they would flock.
They all raised their glasses to their friend lost at sea,
And then they all toasted his replacement to be.
Back in the dark as our hero looked on,
He watched the boat search and then it was gone.
He knew on this night he was now on his own,
So decided to fight on instead of just moan.
He paddled so hard his arms started to ache,
But more and more progress he started to make.
As the dawn sun came up he gave a quick glance,
In the distance was land and he knew it was France.
with safety in sight he knew he had to give more,
So with new vigour he swam ever harder to shore.
With one more big push the dry land was in reach,
so exhausted he pulled himself onto the beach.
As he lay on his back and looked up at the sun,
he sighed and he smiled as he knew he had won.
And so ends our story of a hero so bright,
Who proves it pays never to give up the fight.
Well, there's always the slim chance the Special Projects Bureau's pilot might turn up on some foreign shore, although we're not holding out much hope. Here's how we'd like to remember our heroic flyboy - at the controls of the Vulture 1 spaceplane during our famous Paper Aircraft Released Into Space (PARIS) mission...
So, join us in raising a glass to the man who "danced the skies on laughter-silvered wings"...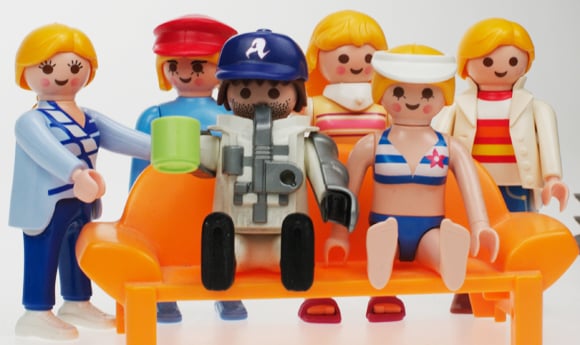 Share your thoughts in the forums by clicking here. ®
---
Further LOHAN resources:
---