Australian Police say don't use Apple's iOS 6 Maps
'Distressed motorists stranded' in desert after Cupertino misses by 70kms
---
Police in the Australian state of Victoria have issued a warning not to use iOS 6 maps, after "a number of motorists were directed off the beaten track in recent weeks."
The warning is no laughing matter as it was issued by Police in the town of Mildura, which is located near the Murray-Sunset National Park, a spot where visitors to the Pink Lakes are advised to "be self-sufficient with drinking water. Carry it in and/or know how to make untreated water safe for drinking."
That warning has become rather important because Apple Maps say Mildura is in the middle of the park.
Victoria Police say "Tests on the mapping system by police confirm the mapping systems lists Mildura in the middle of the Murray Sunset National Park, approximately 70km away from the actual location of Mildura."
Vulture South's own tests confirm that finding, as you can see below. Lest you doubt us, this link will take you to the real location of Mildura.
"Police are extremely concerned as there is no water supply within the Park and temperatures can reach as high as 46 degrees, making this a potentially life threatening issue," the statement says, adding that the force has "contacted Apple in relation to the issue and hope the matter is rectified promptly to ensure the safety of motorists travelling to Mildura."
For the time being, "Anyone travelling to Mildura or other locations within Victoria should rely on other forms of mapping until this matter is rectified."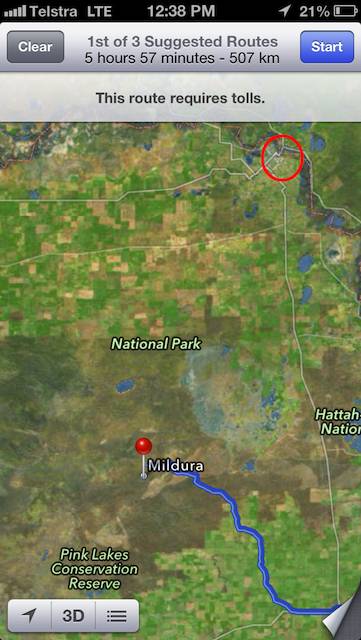 iOS6 Maps say Mildura is here but it is really 70kms away in the red circle
Travellers should also rely on common sense: Mildura is a well-known town as a warm climate and position on the Murray River makes it an agricultural hub. The park, by contrast, is not exactly famous and has precious few roads of any sort. Our investigation of Apple's directions lead us to believe that following them would almost certainly involve leaving a sealed main road likely to offer several signposts for Mildura and instead follow unsealed roads bearing no indication they lead to the town.
Cupertino's efforts are far from its best in this instance, but those trusting their phones must share some blame if they end up in the wrong spot.
Apple Australia contacted The Register to say it has no statement to offer, but reminded us of Tim Cook's past contrition about the maps mess. ®