This article is more than 1 year old
Facebook T&Cs vote falls 299.5 million short of quorum
Brief experiment in social democracy snuffed
Facebook's three-year experiment with user democracy now looks doomed, with a vote over the social network's new terms and conditions coming just under 299,500,000 votes short of the total needed to block the changes.
The proposed changes will eliminate the current user voting system, which was established in 2009 as a token gesture to those annoyed at Facebook's high-handed attitude to T&C changes, in addition to allowing greater data sharing with affiliates like Instagram.
After a week of voting, 589,141 users went against the changes, with just 79,731 in favor.
Facebook has said it would recognize the votes as binding only if a third of the total user base – currently around a billion profiles, a fair few of which are fake – actually votes, so this is well short of the quorum needed to block the move. The final decision on the changes now rests with Facebook's management.
Marc Rotenberg, president of the Electronic Privacy Information Center (EPIC) told El Reg that the vote, while not binding, should still make Facebook's management stop and think.
The turnout makes it the largest vote in Facebook's history – over double that of the last vote in June – and nearly 90 per cent of those who cast their ballot were opposed to the new changes, he said.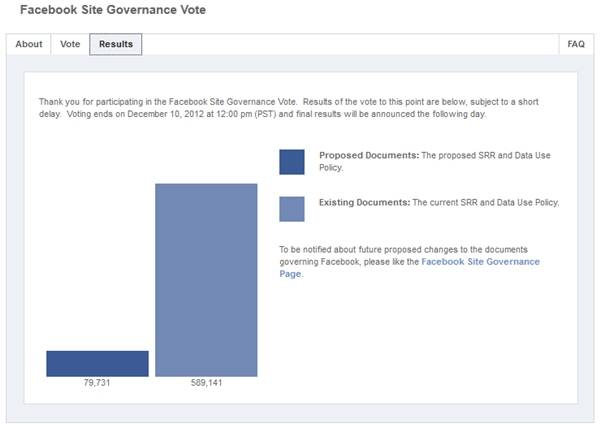 This is how democracy dies
"EPIC's view is that the Facebook users who participated in the vote made clear that Facebook should withdraw the proposed changes," Rotenberg said.
Under the scheme put forward by Facebook, user issues will now be addressed in a regular webcast by its chief privacy officer, Erin Egan. User issues to be discussed will be chosen at Facebook's discretion, but the company has said it is also planning to introduce new user feedback tools to replace direct voting.
"While Facebook says it plans to 'incorporate suggestions into creating new tools that enhance communication on Facebook about privacy and governance,' Facebook consistently dodges specifics and continues to push for an end to the democratic, user-based voting process," said Taren Stinebrickner-Kauffman, executive director of SumOfUs.org, in an emailed statement.
"The current system requires a ridiculous 1/3 of all Facebook users to vote, an implausible number that is so hard to reach that it has no practical impact on Facebook's decision-making. Even so, Mark Zuckerberg isn't content with his near-dictatorial powers over users, and is trying to get rid of even this most token gesture towards democracy." ®