The idea that cars should share data among each other to automate some aspects of driving and make more efficient use of roads is not new.
But researchers from the Universidade do Porto and Carnegie Mellon University have noted an important impediment to its adoption: cars are smaller than other vehicles – like lorries and vans – and line-of-sight networks may therefore struggle to deliver data from car to car.
Happily, the boffins think they have a fix, using what they call "Tall Vehicle Relaying" (TVR), a scheme that would see bigger vehicles relay signals between cars to give communications a better chance of succeeding.
The researchers conducted experiments on the VCI ring road around Porto, and the nearvby A28 motorway . The researchers tested a number of configurations to determine the best way to beam signals between vehicles, including current favourites that seek out either the farthest or nearest reachable neighbour. Real, live, white vans were used in tests, with a Mercedes Sprinter and Fiat Ducato pressed into service.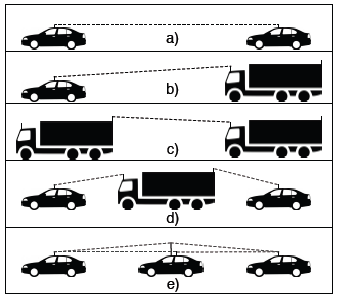 Tests used for TVR trials: a) car-car; b) carvan; c) van-van; d) car-van-car; e) car-car-car (tall and short relay antenna).
The team then also tried TVR, seeking out the farthest tall vehicle to use as a relay point. Results suggested doing so made for superior communications when tall vehicles are available. On less-congested roads where fewer tall vehicles are present, the effectiveness of the technique declined.
The researchers also looked into whether reliance on tall vehicles as relays made them network bottlenecks, and found just a five per cent degradation in performance compared to farthest-neighbour techniques.
The paper concludes with the finding that the results could enhance routing protocols, and that "On highways, trucks and other tall commercial vehicles can be used as moving hotspots that relay the messages between the shorter vehicles. In urban environments, public transportation vehicles such as buses and streetcars can be used for the same purpose."
The paper Tall Vehicle Relaying in Vehicular Networks is available here. ®