Earthworm Jim
Groovy!
---
Antique Code Show I can't think of one person I've met who didn't enjoy the run and gun fun of Earthworm Jim. Released in 1994 on both the Super Nintendo and Sega Megadrive (Genesis) it made my eyes pop. The graphics were revolutionary (and surreal) and it's certainly one of the most popular platform games ever made. It went on to spawn a cartoon show, and several remakes and sequels, as well as a lot of really epic vinyl toys based on his facial expressions and striking poses.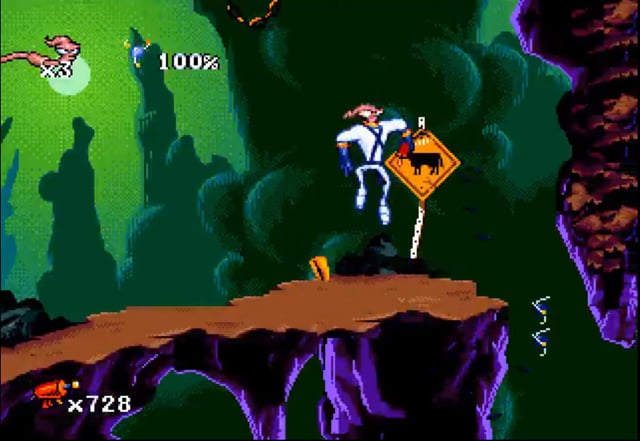 Anything but sluggish
Jim is just your common-or-garden earthworm until a space suits falls from the sky landing on top of him. Donning the "Ultra-high-tech-indestructible-super-space-cyber-suit" suddenly Jim is able to run and jump in a very unworm like way. Jim has three basic abilities: jump, shoot, and whip. Luckily, he also has a helicopter head for some skillful slow manoeuvring.
Jim starts the game in New Junk City a run down junkyard filled with tires, full of mad dogs and killer crows looking for a wormy-based dinner and a boss made of rubbish bins "Billy the Bin".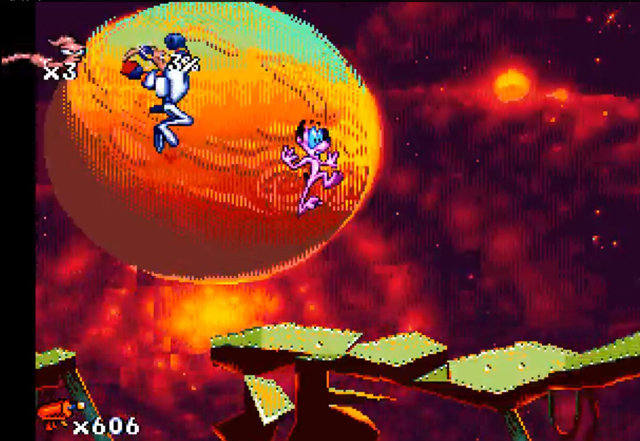 Junkyard hi-jinks
The rest of the game is spent running away from PsyCrow a famous intergalactic bounty hunter – whose suit Jim is accidently wearing – and trying to find and rescue Princess What's-her-name from the evil The Evil Queen Pulsating, Bloated, Festering, Sweaty, Stinky, Pus-filled, Malformed, Slug-for-a-Butt who was after the suit in the first place.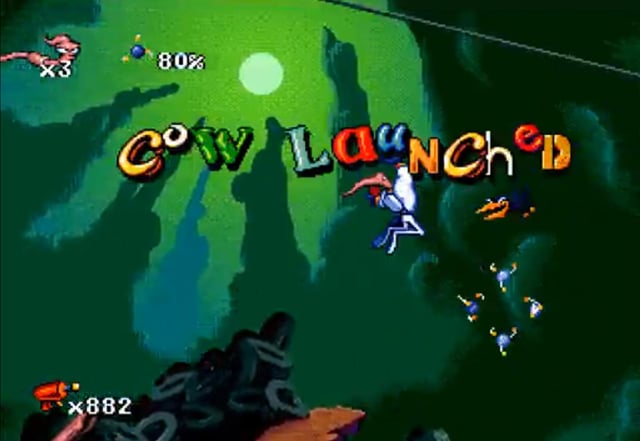 Cow launch – you know it makes sense
Ultimately the Princess rejects Jim's affections and is promptly crushed by a cow, COW LAUNCHED! We see a lot more of these bovines in Earthworm Jim 2, the only sequel to match the vitality of the original.
The level involving bodily functions (Intestinal distress) had me in fits of giggles, as did Earthworm Jim's silly sayings and slapstick animations. Giant hamsters and anthropomorphic brains ramp up the chuckles and, if all else failed, Jim could always be relied upon to drop his pants.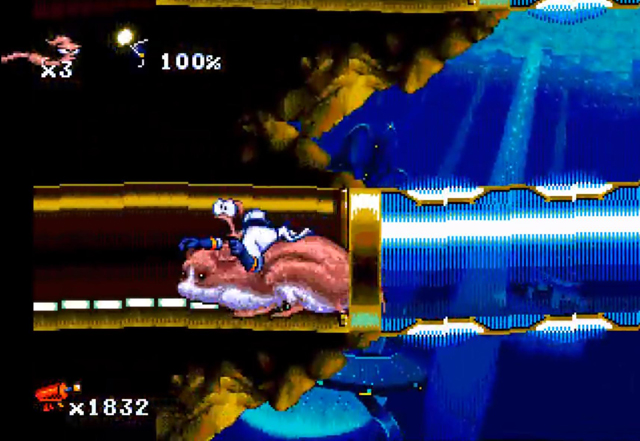 Tube travel
On starting Earthworm Jim I can choose one of three difficulty choices: practice, normal, and difficult. I remember struggling with Buttville, the final level, as its difficulty caught me unawares!
Graphically, the game's cartoon style has held up very well over the years. The animation is still perky and surprisingly smooth. The character sprites have enough detail to give them personality and the backgrounds are large and vibrant. As an animator, I can really appreciate how much of Shiny's vision has made it to the screen.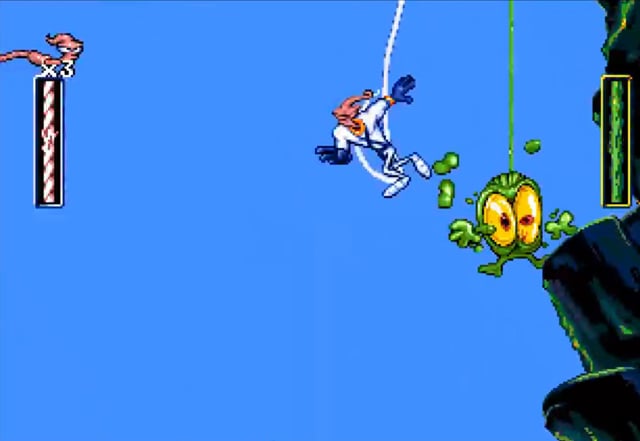 Going Green
Sounds and voices are well defined and the music is quirky and memorable but maybe not as catchy as other 8-bit retro games.
Earthworm Jim is a typical platformer in that I spend most of the game assassinating or avoiding enemies, collecting items, and working towards a boss. What makes it so special is the level design, humor and that several levels change the gaming experience. What the Heck! is my favorite level as there is so much going on not least killer lawyers and snowmen.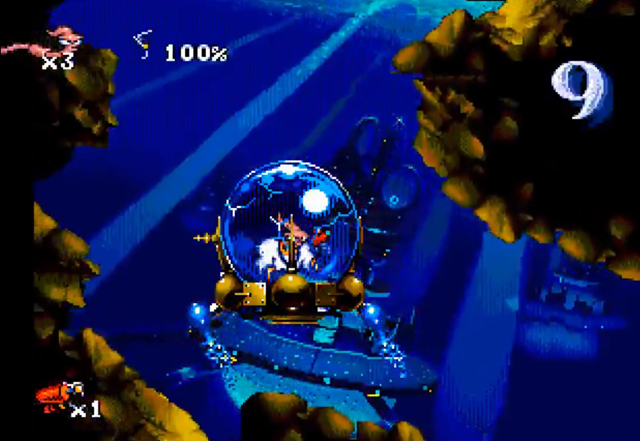 Sphere of influence
I also enjoyed running tunnels in a bathysphere, killing robot chickens and, last but not least, saving a puppy. Every level has it's own unique atmosphere and nothing is repeated apart from the Andy Asteroids between levels space race.
The 2010 HD remake with four-player co-op mode looked sharp, sounded sweet and managed to maintain the originals bizarre sense of humour.
Nothing in Earthworm Jim makes sense and that's what makes it so wonderful. Ahead of its time, this is a game with almost infinite playability because of it's childlike humour and complete originality. ®
Developer Shiny Entertainment
Publisher Sega of America, Virgin Interactive, Takara
Release Date 1994
Platforms Initially, Super Nintendo and SEGA Megadrive
More info Original game available on Amazon and a new iOS version can be found on iTunes.
More Retro Games

Taito's
Double Dragon
Dark Forces
Half-Life
Populous
Legend of Zelda
Ocarina of Time