This article is more than 1 year old
Apple's iOS 6 maps STILL muddle Mildura
Directions now head in right direction, but Oz town still in wrong spot on the map
Travellers relying on their iPhones and iOS 6 to find the Australian town of Mildura are now in less danger finding themselves in a hostile, waterless, environment.
Apple has tweaked maps on the iPhone so that travellers seeking the Mildura are directed to the actual town and not the geo-wonk-only namesake we spotted earlier today.
The screen shot below shows that the route chosen by the Maps app will deliver you to the town of Mildura, where water and food are plentiful.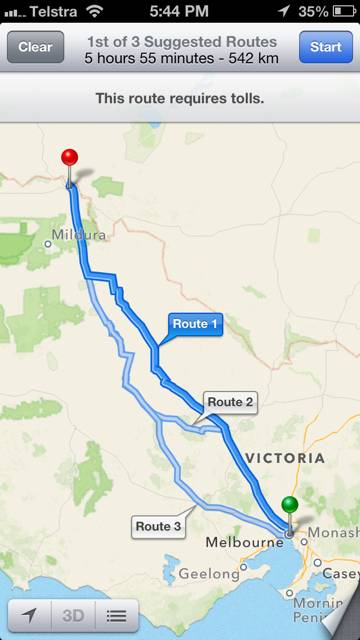 iOS 6 maps can now find the real town of Mildura
But Apple's not fixed the whole problem, as the shot below shows it still offers a place called "Mildura" in the middle of a national park.
Mildura is still positioned in the desert, not the town
There may be other messes waiting to be uncovered, as tests conducted by Vulture South have also yielded variable results through the day. Accuracy improved over time, so it may not be long before the real Mildura is once again in its rightful place.
Given the international coverage of the mess, it remains to be seen if Apple's reputation will also be restored, no matter how much Tim Cook apologises. ®