Dell shoots for number one in servers, adds OpenStack to public cloud
Ex-Prez Clinton preaches optimism, and R&D spending, to the multitudes
It's the internet of things, stupid
You can accuse President Clinton of a lot of things, but cloudy thinking is not one of them. And thank heavens Clinton didn't go on and on about clouds and solutions during his keynote and then his question-answer session with Michael Dell.
Clinton talked about so many things, as he does when he gets going, that it is hard to summarize. But mostly the message seemed to be simple: be forward thinking and look to the future, don't live in the past.
One poignant example that he brought up, which was relevant to techies and nerds the world over who have been watching the hunt for the Higgs boson at CERN.
"The world I see has lots of interesting things," Clinton explained during his keynote. "If you are interested in particle physics, earlier this year, finally at the CERN superconducting supercollider – which I tried to build in Texas, by the way and you may remember your former senior Senator, Lloyd Bentsen, who became my first Treasury Secretary, came to me and said we were trying to make a budget deal back in 1993. And he said, 'We can't get the votes unless we give up the supercollider.'"
"I said, 'That's the dumbest thing I ever heard. Particle physics is going to determine a lot of our future, and it is not that much money.' And he said, 'Congressman who don't live in Texas think it is.'" I say that because you will have to hold your nose during this budget process. It is going to get ugly."
But the important thing that has come out of the hunt for the Higgs boson, said Clinton was that the project ended up a CERN with a global team working on the project and that researchers are working under "creative collaboration and creative competition" to try to figure out if we have indeed found one – or two – God particles.
Clinton has taken a shining to the internet and open source – which is quite a leap for a president who sent two emails during the eight years of his two terms and which is laughable considering that he was in the White House during the dot-com boom.
Some would say Clinton got his second term and budget surplus because of the dot-com boom, so maybe he should be Bubba Dot-Com. It has been almost 20 years since Clinton was first inaugurated, and Clinton said it was hard to believe it has been that long.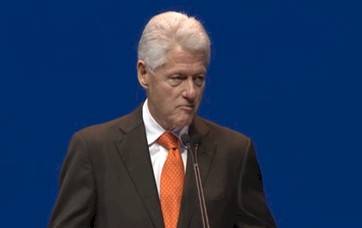 President Bill Clinton addressing Dell World attendees,
tongue in cheek but dead serious
"The way the Internet works could be a model for the way we deal with the challenges we face in the 21st century that appear to have no much to do with technology," Clinton said.
"When I was president, the average cell phone weighed five pounds. There were a grand total of fifty web sites on the entire Internet – that was it. More than that have been added since I started talking. (It had only been about nine minutes at that point – ed.)"
"I sent a grand total of two emails when I was president: One to our troops serving in the Balkans when we were trying to stop the ethnic cleansing in Bosnia and Kosovo, and one to John Glenn who was up in space at the age of 77. It didn't hurt him any, he's 92 and he still walks 3 or 4 miles every day." Not the email, the spaceflight
Clinton was not big on email back then, he explained, because most of the emails he saw were going around the White House staff and a lot of people "typed before they thought." Which is a pretty good description of the Internet, if you get right down to it. But that doesn't mean Clinton is a disbeliever in technology even if he has been an awful, or at least reluctant, user.
"In a world that is still dominated in the daily headlines by conflict – what's going on in Egypt, what's going on in Syria, what's going to happen in China, are we going to fight over natural resources – in a world that seems to be full of zero-sum games and conflict models that are based on trying to hold onto a yesterday that can't be recovered, I believe that the future belongs to networks of creative cooperation," Clinton said.
"I love the way the Internet allows people to make unusual partnerships, and to try, and to not be afraid to fail and go on and do something else."
Clinton said that we are now living in the most interdependent period in human history, even though there was more tight coupling between the global economies ahead of World War I (which was one of the causes of the war, of course).
"But there has never been a time when so many people, so much information, so many cultural ideas, so many political debates, and so many security threats are crossing national borders. They all seem to look more like nets than walls," said.
The problem, said the former president, is that the world is too unequal, there's too much instability, and the world is unsustainable because of the way we produce and consume energy. And we have to learn tolerance, that everything is not a zero-sum-game, and remember to be optimistic and hopeful.
"We have to learn to live with difference and still feel good about ourselves," Clinton said as he wound down his speech. "If we can get back into the tomorrow business, and do it together, we are going to be just fine."
To that end, Clinton said that the "hardest thing to do was keep an old country in the future business" because the future "never has a lobby as strong as the present."
The future always gets cut first. And so Clinton admonished Dell, the man, and his industry titan peers to keep spending money on research and development. "You need to preserve our R&D budget. We are down below 3 per cent of GDP, and we should never be below 3 per cent." ®