Dell wants to be more than your box provider
Solutions in hand – but supply your own drinks
---
Dell World 2012 If you are sitting around bored at work and you happen to keep a bottle of whisky in your desk, I have a new drinking game for you. In fact, you better switch to beer. The game is simple: log into the keynotes at Dell World 2012, which is being hosted by Dell this week in Austin, Texas, and every time one of the top brass says "solution", you have to down a drink. If one of them says solution twice in a sentence, the person to your left has to have two drinks.
Dell World is running for the next two days, so if you missed the opening executive panel keynote today, there's still plenty of time to play. And, perhaps more importantly, you can play the same game during any IT webcast or conference call. Tomorrow, I plan to use coffee instead of beer, but today, had I played with American-style light beer (which I detest), I would have been blind drunk before the 45-minute session was over. And the guy to my left would have caught a pretty good buzz, too.
Some 5,000 customers and partners descended on Dell World, the second such event that the company has hosted, to rub elbows with Dell executives, including company founder Michael Dell. And all kidding aside, Dell is dead serious about being a "solution provider" (barkeep, slide me another if you will) – and it has to be, because as we all know the margins are in software and services.
That's why Steve Felice, Dell co-president and chief commercial officer, bragged that Dell had spent over $10bn in the past five years to acquire Perot Systems, Quest Software, Wyse Technologies, Scalent, Boomi, AppAssure, SonicWall, KACE, SecurityWorks, and a slew of others to build out its portfolio of services and software.
The executive roundtable was a way to introduce some of the new faces of Dell to customers and partners, with just about everybody but Dell, the man, and Felice, who joined Dell in 1999 from third-party tech support firm DecisionOne, and Jeff Clarke, vice chairman and co-president in charge of global operations and end user computing, being the old Dell hands.
Marius Haas, president of the cross-group Enterprise Solutions (gulp!) group, just came aboard this year after a short stint at private equity firm KKR and a long career at rival HP. John Swainson, who runs Dell's Software Group, is a long-time IBMer who turned CA Technologies around. After the surprise resignation last week of long-time EDS executive Steve Schuckenbrock, who has been at Dell since 2007 and who has run its Services and then its Large Enterprise groups, Suresh Vaswani is the new president of the Services group and was formerly in charge of Dell's Indian services group; before that, he was the co-CEO at Indian services giant Wipro. The consensus on the street seems to be that Schuckenbrock wants to be a CEO, and it ain't gonna happen at Dell. (There could be some openings up at HP.)
The opening of Dell World was also a way to toss out some more statistics. Dell says that it has presence at 95 per cent of the Fortune 500, and that more than 10 million small and medium businesses rely on its solutions (gulp!) and services (okay, new rule, when Dell says services, you have to pay the person to your right $5.) Dell also has something on the order of 115,000 partners, with about 650 of them showing up at Dell World to get the inside track.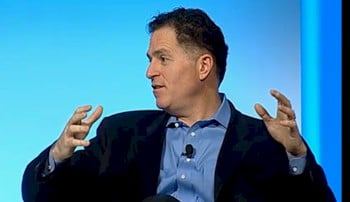 Dell chairman and CEO, Michael Dell
The execs were also put on the spot to answer questions, and Dell, the man, was asked about what he thought about the future of the PC business, something on the minds of both HP and Dell these days and not something that IBM is worried about much these days. (IBM is more worried about the future of systems and services, and it will have its own issues here, fear not.)
"We spend a lot of time talking about this and working and working on it together," Dell said, referring to his collaboration with Clarke. "We're quite optimistic about Windows 8. You're going to hear over the next few days about a broad set of products. Think about a product like Latitude 10, which is a thin, light tablet that also docks to become a full workstation – totally secure, works with all of the other Windows things that a customer have, runs Microsoft Office, and has a USB port, and so on.
"That's the kind of product that really excites out customers and helps address some of the challenges that exist. We think the touch experience is incredible. We have this stunning 27-inch, quad HD display with our XPS27 all-in-one. We think we are seeing a real revolution in the PC."
Clarke was more adamant: "We still believe that the PC is still the preferred device to do work, to drive productivity, to create. I look at the long-term prospects of the PC business and I am very optimistic; 85 per cent of the world's population has a PC penetration rate of less than 20 per cent. I look at the middle class as it grows over the next 20 years from 1.8 billion people to 4.9 billion people, and I see the opportunity there. I look at the number of small businesses that we sell to today, and the creation of small businesses continues at an unprecedented rate and serving that with PCs is still a huge opportunity for the company."
One of the big events at Dell World on Wednesday, which Felice hinted at, would be a partnership with the Clinton Foundation, the organ of former president Bill Clinton, to help spur the growth of small businesses. (I doubt they talk about solutions much.)
The real issue, explained Dell, was moving from selling individual point products to standing up combinations of servers, storage, networking, PCs, software, and services to solve a particular problem. This is precisely what every major systems player is trying to do, and the big independent OS suppliers (Microsoft and Red Hat) as well, who treat x86 iron the same way they treat electricity: as a given and not worth much consideration or profits.
Dell actually did some product stuff today, too. The new KACE K3000 mobile management appliance was rolled out today, and as the name suggests, it is a variant of the KACE systems management appliances that Dell acquired a few years back, this one tailored for managing security and software deployment policies centrally for smartphones and tablets running iOS and Android.
The original K1000 management appliance does systems management and security patching for servers and PCs, while the follow-on K2000 appliance does operating system and application provisioning on the same devices as well as migrating images and discovering them on the network.
All of these appliances run on 1U PowerEdge servers or come as an ESXi virtual machine image you can plunk on the server of your choice. The K1000 and K2000 can handle about 20,000 devices; NASA, which is the largest customer using the platform, has over 100,000 devices under management. The K3000 can handle about 10,000 mobile devices, Ken Drachnik, director of product marketing for the KACE line, tells El Reg.
Interestingly, about 60 to 70 per cent of customers who buy the K1000 to monitor and manage systems buy the K2000 to provision software on their machines, and Drachnik says that Dell expects somewhere around 40 to 50 per cent penetration among K1000 customers with the new K3000 appliance, based on the penetration of tablets and smartphones in the workplace.
The appliances have a base price including the server, plus a per-device charge. The K1000 costs $8,900 for 100 devices, plus $31 per device above that, while the K2000 and K3000 cost $4,500 with 100 devices, plus $13 per device. You have to pay an annual ProSupport software/hardware maintenance fee of 20 per cent per year, as well. These appliances are really aimed at customers with more than 100 devices, hence the pricing.
"Under 100 devices, and an IT guy can manage it manually," says Drachnik. "But above that, it all starts to fall apart." ®