Netflix names Google Fiber the fastest ISP in the US
AT&T the slowest mobile provider
---
Content streamer Netflix has released the first in a planned monthly listing of the fastest internet service providers operating in the US, and so far Google Fiber is the top dog.
That's good news for the residents of both Kansas Cities and a lucky few in Stanford, California, but not a lot of use for anyone else. Second on the list was Verizon's service, with Comcast's fiber network clinching third.
On the mobile front, Verizon's leading the pack ahead of T-Mobile and Sprint, with AT&T bringing up the rear. While users report that AT&T speeds have improved a lot over the last year, its network is still only 40 per cent as fast as Verizon's.
Netflix says that it streams around a billion hours of video a month to its 30 million customers, giving it an accurate idea of what speeds people are actually getting, as opposed to potential bandwidth generally reported by ISPs.
"The average performance is well below the peak performance due to a variety of factors including home Wi-Fi, a variety of devices, and a variety of encodes," said Ken Florance VP of content delivery at Netflix. "The relative ranking, however, should be an accurate indicator of relative bandwidth typically experienced across all users, homes, and applications."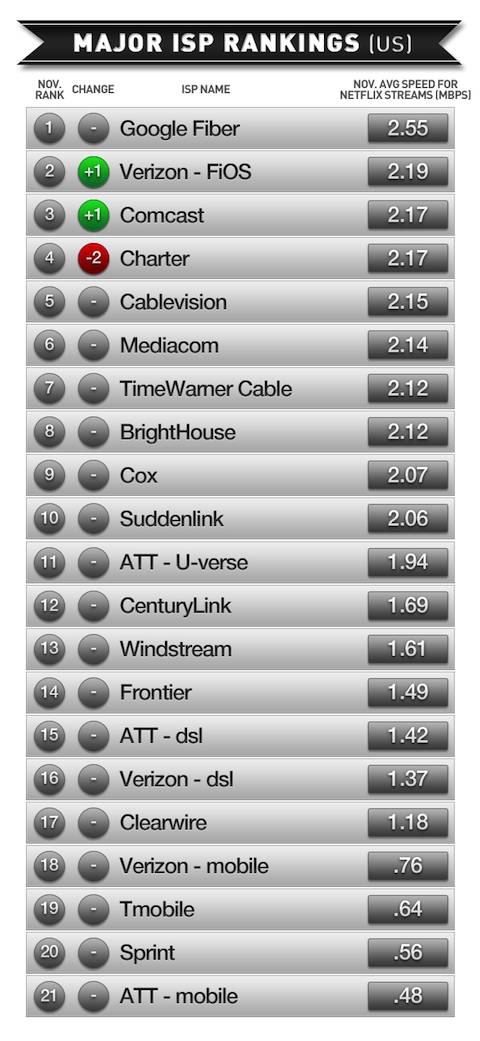 Painfully slow US download speeds
The overall speed results make for depressing reading. Even Google Fiber could only manage an average of 2.55MBps, which readers in South Korea, Japan, and parts of Europe would find laughably slow. The US is now well down the rankings in terms of global internet speeds, but its consumers pay more than most in the industrialized world for their access.
One of the main reasons for Google to get into the ISP business was to shake up the US market and get it back to the top of the world's broadband charts. Based on these figures it has a long way to go. ®