This article is more than 1 year old
Review: Apple iMac 21.5in late 2012
An extremely thin client
Key issues
And don't get me started on having to 'eject' USB sticks and other external storage devices. Given this company abandoned the floppy drive back in 1998, you'd think it could shed some antiquated conventions too without telling me of the damage I may have caused by simply unplugging a USB stick. So this anachronism remains yet FireWire has gone. Naturally, Apple will flog you a Thunderbolt to FireWire adapter for £25, but if your device is bus powered, better hope it doesn't draw more than 7W.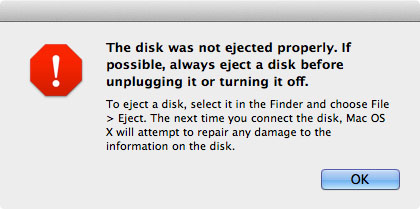 The most advanced operating system in the world, apparently
I use the arrow keys quite a bit on my preferred extended keyboard, so adapting to the more minimal Bluetooth model takes a bit of adjustment at first. It's bit like being on a laptop, which isn't necessarily the experience you want when owning a desktop machine. Apple should also consider either tweaking its keyboard legends or its Help text. The former shows the Alt key while the latter always refers to the Option key. I know this, but not everyone will and I fell foul of similar assumptions when testing the Samsung Chromebox earlier this year.
Firing up the iMac for the first time confronts you with language preferences. There's also a licence agreement URL (rather than the blurb) and you must agree to this unseen text before proceeding. Considering you're not even hooked up to a browser yet, I have issues with this sort of bamboozling.
Furthermore, if you don't have an Apple ID you won't be able to access updates for applications such as iPhoto, among others. From the off, you can still get operating system updates by simply cancelling the Apple ID prompt. Interestingly, once logged in, the iPhoto update popped up first and a few minutes later, the OS X additions appeared in the listing. An Apple ID sign up conspiracy no doubt... or maybe not.

It may indicate headphones only, but the minijack also supports the mic in iPhone headsets
While you don't notice the iMac's heroin chic from the front, you do notice it in other ways. It's really light for a start. You could easily carry it from room to room and given it has wireless peripherals, it's probably less fuss to manage than a vacuum cleaner. When you do want to plug things in, you need to go hunting around the back and that's when things appear less thought out, at least it seems that way to begin with.
The back panel is bulbous – super thin at the edges but swelling in the middle. The array of Ethernet, four USB 3.0, two Thunderbolt/DisplayPorts, an SDXC slot and a headphone socket are not an easy find. Staring down from above I couldn't see them at all given the curvature at the back. My cursing was only momentary though, the display does tilt after all, and lo, the ports appeared each with easily identifiable icons – the camber actually helps visibility here. Incidentally, turning on the iMac is much less of a grope around the back, as the power button is slightly bevelled, so you'll find it every time.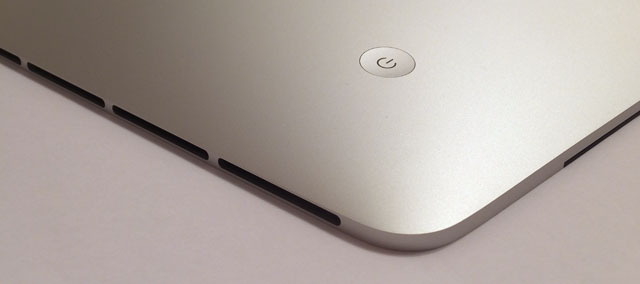 Vents for air intake and sound out. Note bevelled power button – a minor change but significant improvement
Now, flat panel iMacs have never had a reputation for being noisy, but this one is whisper quiet. Even when copying files and running GeekBench, hard drive clatter was imperceptible – a real ear against the screen job to hear what was going on. The 2.5in drive is rubber mounted – this is more than a few grommets – and it makes an incredible difference. Unless there's some patent pending, they'll all be doing it this way soon. Maybe some are, but you can be sure that, just like wireless charging, Apple will have thought of it first.
Obscured from view by the metal stand is the main exhaust vent but in hours of use the new iMac just didn't get hot... or even warm for that matter. Also out of sight and along the underside edge of the screen are the intake vents which are adjacent to the speaker ports. The speakers are surprisingly good and sufficient to enable family viewing of movies from across a living room. There are no nasty resonances present and although the upper mids can be a bit on the sibilant side, the output is fairly robust in the bottom end. Stereo separation is also very well delivered, such that I even had to check the iTunes spatial boosting Sound Enhancer wasn't active.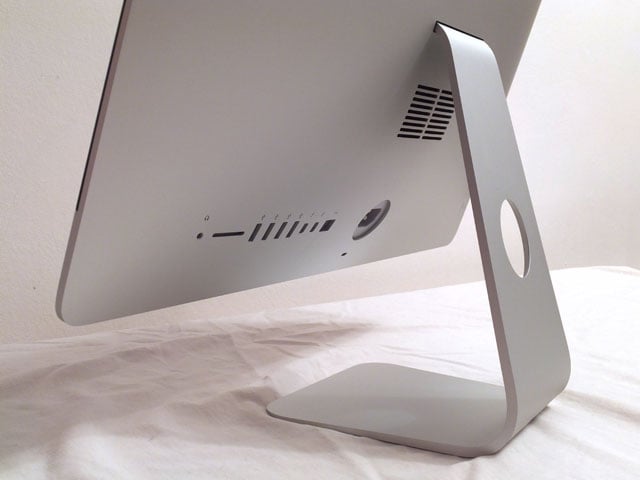 For the most part, the rear vent is hidden by the stand and you'll be hard pressed to hear the fan
With the SuperDrive plumbed in, I tried out a movie with Apple's DVD Player springing into life. The new iMac might not have an optical drive, but it hasn't forgotten what to do with them. Ripping tracks on iTunes was a piece of cake too, with the drive whirring away in all the ways you'd expect, pulling in a 58-minute CD in five minutes using iTunes Plus settings. Apart from the speakers, using the optional SuperDrive is noisiest aspect of using the new iMac.