This article is more than 1 year old
Review: Apple iMac 21.5in late 2012
An extremely thin client
Hard choices
Yet one of the most irritating aspects is Mac OS X Mountain Lion's compulsion to access to your Contacts for just about every application that's installed. As I was setting up the machine for a friend, I spent a lot of time being hassled to grant permission when I just wanted to be able to say no to all. Apparently, this is an improvement on earlier OS X versions which would allow apps Contacts access regardless. So now you can choose which apps have permission and can tweak this in the Security and Privacy control panel. In a somewhat frustrating way, this appears to be progress.
Geekbench 2.0 Results

Longer bars are better
Tests with Geekbench reveal this entry level iMac sits between the Mac Mini and the MacBook Pro 15 with Retina Display. No doubt the SSD keeps the MacBook Pro in the lead, along with its superior Nvidia GeForce GT 650M GPU. It has been argued that Apple's choice of the GT 640M on the new iMac is one way of tackling power consumption issues which would also reduce the heat it produces. Still, it's passable for gaming and you can even attach a 30in, 2560 x 1600 screen to it.
Having become accustomed to have an SSD installed in my own ageing MacBook Pro 17, I'd say this is where the new iMac suffers. Its quad-core CPU may well be a thoroughly decent number cruncher, but that HDD introduces a measure of lag that, from an everyday user perspective, shows itself compared to an SSD-equipped machine.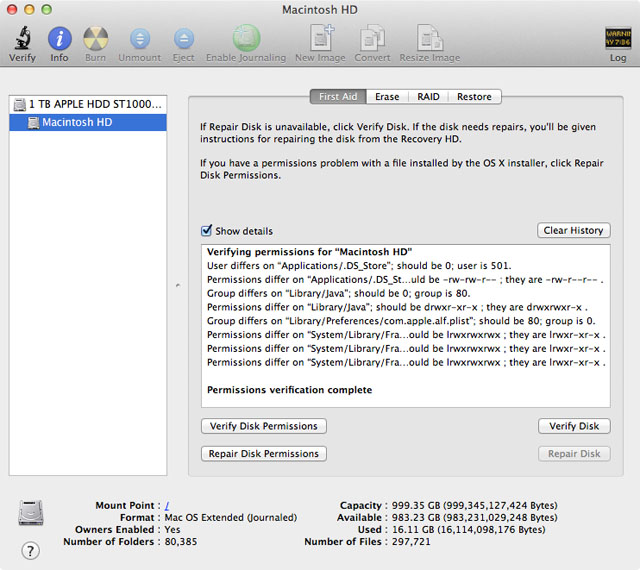 Even repairing a handful of permissions on an HDD takes an age compared with SSD models
Even checking the drive's Disk Permissions had the iMac mulling over a handful of tasks for around three minutes, when an SSD model would have completed in seconds. This does make the case for the Fusion option and, given the design of this new model, you may want to think long and hard about the storage choices you opt for.
Memory ditto since, as I say, this is not a box you can get into without first removing the display, a process that involves softening screen adhesive with a heat gun. Apple clearly doesn't want anyone messing with this thing's innards once the machine has left the factory. I hope it's reliable, or Apple is going to take a big hit on repair costs. I see no reason at all why it doesn't simply hang the back of the iMac on a couple of latches.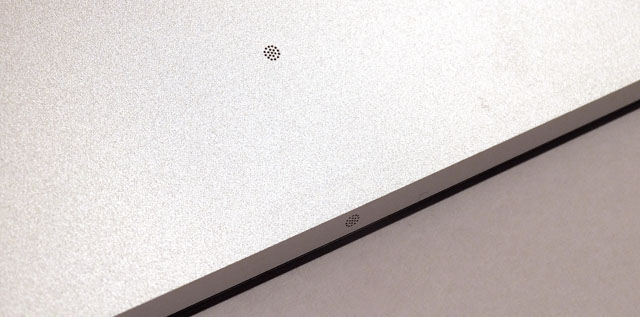 Two mics to accommodate noise cancellation during FaceTime or Dictation sessions
As a seasoned Mac user, it's easy to overlook features that have been introduced recently that are unique to the platform. This review model replaced an older iMac that had been stolen from a family home. Its light weight and looks aside, the new owner loved the Magic mouse with its gestures and was relieved to see all her iTunes purchase restored.
There's FaceTime too, and having a chat on my iPhone 4S over a 3G network was surprisingly good, with the audio from the iMac's dual mics sounding loud and clear with perfectly acceptable video coming through too. Dictation – Mountain Lion's speech-to-text feature – was also an instant hit, being surprisingly adept even with more esoteric words and phrases.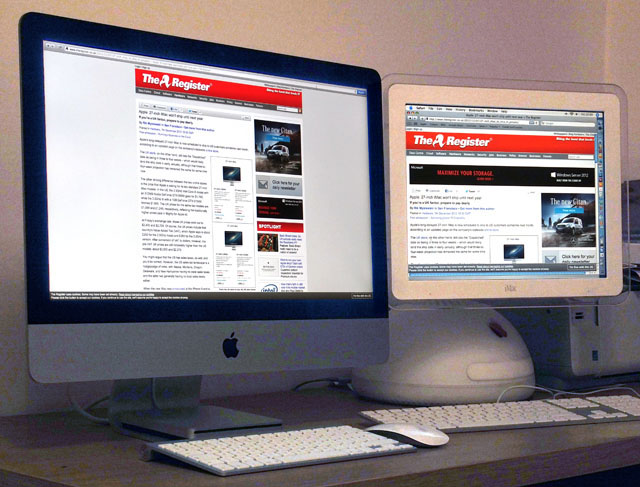 The first iMac G4 flat panel (right) is 11 years old and, due in no small part to it being upgradeable, this one is still going strong
The Reg Verdict
In some respects, the new iMac is too clever by half. When working on it, you'll never know how slim it is, but it does impact in other ways, as it's incredibly light to move around. Apple has been listening too, as the screen really is less reflective by an impressive margin. It even manages to pump out a decent sound while remaining deathly quiet in operation.
The only real issue is the way the HDD storage impedes performance. It's just not as snappy as it could be, and swapping out the hard drive for an SSD is, at best, bloody difficult, at worst impossible. Indeed, if you're looking for a growth industry in 2013, I'd look to heat guns and don't be surprised to see hair dressing salons offering Genius Bar repair services. They could even wash your keyboard while you wait. ®

Review: Apple iMac 21.5in late 2012
Apple's new oh-so-skinny entry-level iMac trots up the catwalk with a decent quad-core CPU, good Nvidia GeForce graphics and a bright yet anti-reflective Full HD display but no optical drive and an all but non-existent upgrade path.