Review: Mio Cyclo 300 cycling satnav
On yer bike, mate
For some people cycling is about the exercise, for some it's about the countryside and for some it's about the gadgets. The carbon fibre water bottles and rare alloy spokes.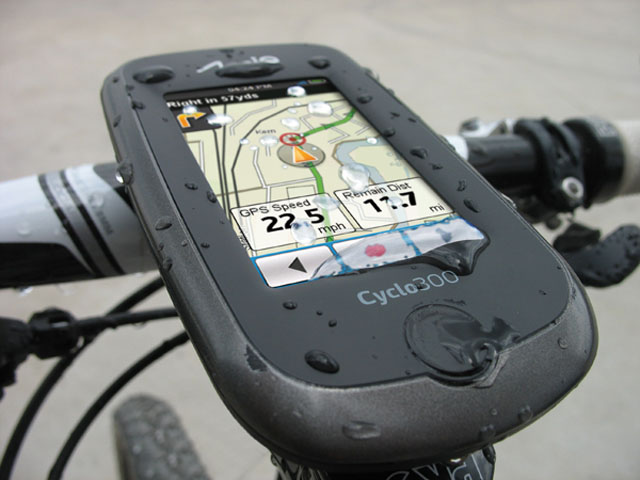 Mio's Cyclo 300 all weather satnav
It's easy to assume that a bike computer is something which is only right for those in the third category but even those in the first and second want to cycle without having to unfold an Ordnance Survey and will appreciate learning new routes. Mio is best known for budget car satnavs and the Cyclo 300 falls into a similar category for those who use two pedals rather than three.
It's a chunky little device at 121 mm x 67 mm and 18mm, and 156g. A chunk which is heightened by the rubber coating which helps it bounce when dropped, which along with its IPX7 water resistance can survive a dunk of 1m for up to 30 minutes. Fine for dropping it in the largest of puddles and it might even survive a quick swim in a canal.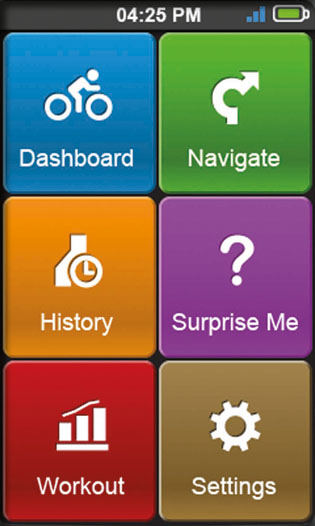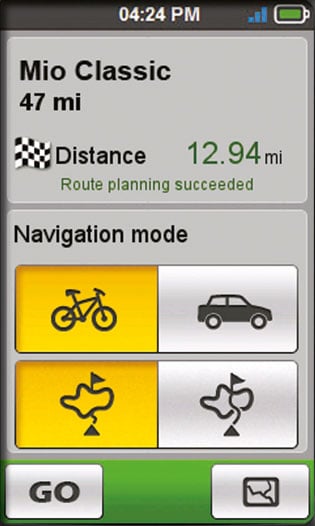 Main menu and Navigation options
Part of that weight is the battery, which combined with the fairly small 3in screen means it has a quoted 12hr lifespan and I saw nigh on 10hrs before losing at charger chicken. You might not want to cycle for ten hours straight but you may well want to spend a couple of days out with a night in a tent and no mains power.
Lots of bits of plastic spill out of the box along with a familiar mini USB cable. Those bits are the handlebar mount which is mostly good. We had one incident where it didn't clip in properly and that's probably how it picked up a scratch. It is, however, far from fragile.
The hardware is a GPS, of course, e-Compass and barometric altimeter. Cycling is enjoying a resurgence from Boris turning the city onto two wheels to Wiggins generating British pride and a fantastic resurgence in track cycling. This means cycle superhighways are as full as the M25 and your ordinary cyclist is getting into the gear and heading for the hills.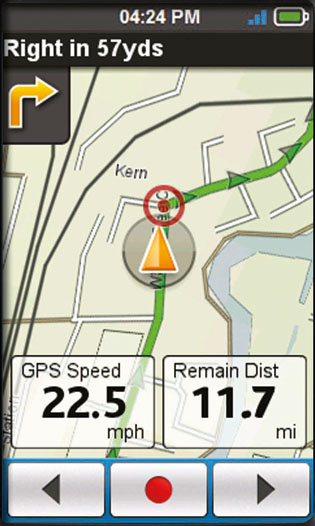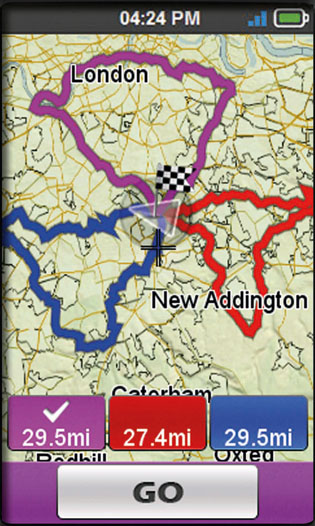 Navigation and Surprise Me route options
The Mio claims to be the answer with a slogan of 'explore more'. And to back this up has a Surprise Me mode. My experience of this is mixed, despite claiming to come with "bicycle and road maps pre-installed, ready to go out of the box", it didn't follow the National Cycle route I tried which has a fabulous 10 mile stretch of converted disused railway track - it kept trying to take me off the track and follow the very busy road. That said, it did direct me along a lovely back road route from Tunbridge Wells to Groombridge.