This article is more than 1 year old
Top-secret US spaceplane sets off on another classified mission
First X-37B launches for the second time
The US Air Force has relaunched the first of its super-secret X-37B spaceplanes, the OTV-1, sending it on another mysterious mission in space. OTV-1's first mission was back in 2010.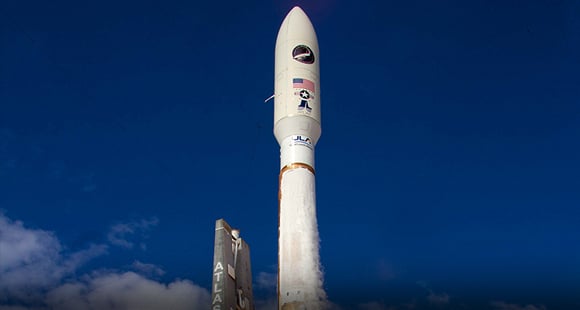 The experimental unmanned spaceship headed off from Cape Canaveral yesterday, just a few months after the second X-37B, OTV-2, made an autonomous landing at Vandenberg Air Force Base. The OTV-2 touched down on 11 June, after a record 469 days in space.
The Air Force never reveals the exact purpose of each mission of these little reusable space vehicles, only saying that in general they run experiments on the craft that can then be returned to Earth. These include projects in advanced guidance, navigation and control, thermal protection systems, avionics, high temperature structures and seals, conformal reusable insulation, lightweight electromechanical flight systems and autonomous orbital flight, re-entry and landing.
"We couldn't be more pleased with the strides we've made in this program and the success of the X-37B vehicle on the first two flights," Richard McKinney, deputy undersecretary of the Air Force for Space, said in a canned statement.
"However, it is important to keep in mind that this is an experimental vehicle and a third mission is still relatively young for a test program. This is the first re-flight of a vehicle so that is certainly a key objective for us. We have only just begun what is a very systematic checkout of the system."
OTV-1 spent 224 days in space after launching in April 2010, before getting refurbished for this mission.
"This mission will incorporate the lessons learned during the refurbishment process on OTV-1," X-37B programme manager Lieutenant Colonel Tom McIntyre said. "As the X-37B program is examining the affordability and reusability of space vehicles, validation through testing is vital to the process. We are excited to see how this vehicle performs on a second flight."
The Air Force naturally didn't say how long the OTV-1 would be up there this time round, that depends on "the execution of test objectives" and other factors, but it has an in-orbit shelf life of around nine months. ®