Flash makes servers go with a Bang, benchmarks show
Fujitsu and Dell scream along with added Violins
---
Flash arrays have enabled Dell and Fujitsu server iron to boast brilliant VMmark results.
Dell PowerEdge R720 servers scored 11.39 at 10 tiles in the VMware VMmark 2.1 benchmark.
AS El Reg wrote when noting HP server success at this:
VMware's VMmark benchmark measures how a server runs simultaneous VMware virtual machines (VMs) which, in turn, run typical business applications. The VMs are grouped into sets of eight, called tiles. Each tile has a score and these are aggregated into a finished number, such as 10@7 tiles, meaning that the score was 10 with seven tiles running simultaneously.

If two servers both achieve 10, but one at 7 tiles and the other at 10, then the lower tile server is recommended by VMware, as a higher tile count may suggest that the server's workload was not properly balanced. Otherwise higher scores generally go with higher tile counts.
In the HP results, an HP server fitted with some SSDs beat a Cisco server accelerated by a Violin 6000 flash memory array. Now here's Dell saying its Xeon E5-2600 servers, at 11.39@10 tiles and using Violin Memory flash, beat equivalent servers from Cisco (11.32@10 tiles), HP (11.13, 11.05 and 9.98@10 tiles), and IBM (10.29@10 tiles). Here's the Dell graph:-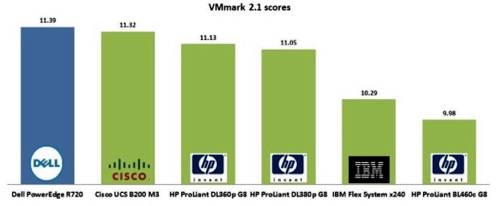 VMmark scores showing Dell with Violin Memory flash array. Click on chart for large version.
Each Dell server had two Xeon E5-2690 processors and 256 GB of memory. There were two Violin V6000 16TB flash arrays with formatted capacity of 8TB (50 per cent) and firmware version G5.2.0. Dell says it picked the other systems results as the "best published 32-core VMmark 2.1.1 results from Cisco, Hewlett-Packard, and IBM published as of 12/10/2012".
Fujitsu and Violin
Fujitsu claimed five VMmark record benchmark results with its Primergy servers accelerated by Violin 6000 flash arrays. Each BX924 S3 blade server had 256 GB of memory and Xeon E5-2690 processors, the same as the Dell result above. One Violin 6616 array was used in the configuration with two BX924 S3 nodes, and two Violin 6616 arrays were used in the 4-, 6- and 8-node configurations. The 6616s had 6TB of capacity, using 64 VIMMs (Violin inline memory modules).
The VMmark 2.1 benchmark results were:-
- 2 node Primergy BX924 S3 server blade's score of 11.88@10 tiles
- 4-node BX924 S3 - 23.14@20 tiles
- 6-node BX924 S3 - 34.75@30 tiles
- 8-node BX924 S3 - 46.22@40 tiles
Fujitsu claims these results "currently out-perform all other 2-socket servers in these node configurations." It says the "Primergy RX500 S7 remains the number one performer in the four-processor "matched pair" class by achieving a new best-in-class result of 20.12@18 tiles." The 2-node Primergy BX924 S3 result of 11.88@10 tiles compares to Dell's 11.39@10 tiles.
Fujitsu resells Violin arrays by the way.
There we have it. If you want your servers to make nice VMmark music then you better add a Violin flash string section to your orchestra. ®