Google maps app is BACK on iPhones, fanbois spared death
'I almost died in Australia, thank God this is out'
---
Google's maps app for iPhones, iPads and iPods is back less than three months after Apple booted it out of the iOS platform.
In that period, the Cupertino giant publicly apologised for replacing its rival's mapping application with its own shoddy satnav-like software; the top exec behind Apple's crap map app, Scott Forstall, left the company; and Australian iPhone map users were lured towards a deadly desert.
Google's old map app was kicked out from iOS in version 6, replaced by Apple's less-than-brilliant counterpart, but has now returned - having won approval from Apple - as a free third-party download available on the App Store as of this morning. It requires iOS 5.1 or later, and a recent iThing.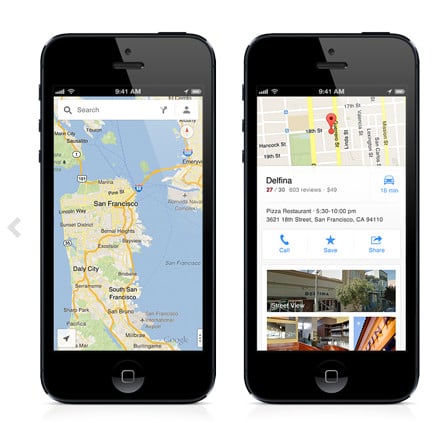 Look who's back!
It's not the default maps app, but at least it is there. And it packs a feature that wasn't previously available - Navigation Beta - voice-guided turn-by-turn GPS navigation to a requested destination. It also brings back the public transport information, local business information and an extra level of detail that was missing from Apple Maps.
The new app also synchronises itself with Google's cloud, allowing punters to sign into Google Maps app with a Google account and share locations, maps and pins between your computer and handheld gadget. And, of course, in the process continue to fork over your location data to Google.
Google Maps for iPhone also features a documented software interface so third-party apps can choose to open Google's maps app instead of Apple's built-in offering.
The software has a five-star rating on iTunes from 7,125 reviews - and this moving testimony from a grateful fanboi… ®