Google Maps becomes Apple's most popular app
Users seek a proper sense of direction
---
Less than a day after its release, Google's Maps app has become the most popular download in the iTunes store.
On Thursday, Google got its mapping app cleared, three months after being unceremoniously dumped by Cupertino in iOS 6. Apple thought that it could do a better mapping system than Google, and presumably saw no reason to support a competitor – although CEO Tim Cook denied that motivation. Users, however, quickly kicked up a storm, forcing the company to apologize and sack key staff behind its crap Maps app.
The new Google application is markedly better than its last iOS application, but still not as wide-ranging as the one available to Android users – Google's not stupid, after all. It recognizes that Maps are a vital app for many users, and if it can switch them to Android then so much the better.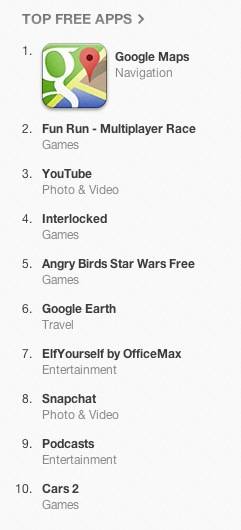 Fanbois flock to Google on Apple's App Store
Turn-by-turn navigation is included, along with traffic data, public transit times, and Street View images, which makes it considerably more complete than Apple's offering. While Nokia's maps tools are better than Apple's, the Finns still have a way to go before then can match Google's massive database.
This is going to cause Apple some problems, since the Chocolate Factory also released an iOS 6 SDK for mapping. If you're a developer looking to add mapping functions to your app, it's pretty clear that Google will be your code of choice.
While Apple has downplayed quite how annoyed its user base has been with its home-grown mapping software, it's clear that there was a lot of pent-up demand for a mapping app that actually works and doesn't threaten users with dying in an Australian desert.
Google's initial mapping success is going to be closely watched by Cupertino to see how many users actually download the new app over time. If a significant majority of users move to Google, Apple might reconsider trying to build its own version to compete, but that's not likely.
Apple is making a big hiring push improve its Map app, even to the extent of wooing ex-Google staff who have expertise in this area and recruiting Store staff to help. It's also asking customers to fill in the blanks to help improve things, such as its lamentable record on finding points of interest.
El Reg suspects that Apple is happy to play the long game on this. By approving the application it's recognizing that users want better maps than Apple can provide, and that they need placating. But Apple has time and money to burn, so in the next few generations maybe it's hoping it can get its own system up to snuff and woo users back. ®