Andromeda home to micro-quasar
Little black hole is big sucker
---
The National Science Foundation's National Radio Astronomy Observatory has spotted an X-ray source in Andromeda, 2.5 million light-years distant, that it's tagged as a "micro-quasar" and says is the first discovered beyond the Milky Way.
The object, XMMU J004243.6+412519 (love the naming convention), is a black hole with an estimated mass around 10 times that of the Sun, devouring the mass of a companion star.
Its theft of mass from its companion (probably a red giant, the observatory says) gives rise to the quasar properties, with the superheated incoming material giving off X-rays and radio waves as its goodbye-cruel-universe message on the way into the gravity well.
Astrophysicists like micro-quasars, since they believe they work on the same basic properties as the black holes in the centre of galaxies, but operating on a faster (and therefore more friendly to human observation) time-scale.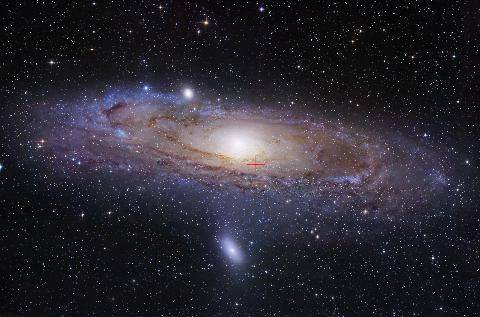 The Andromeda galaxy, with faint red cross-hairs showing the location of the micro quasar
Source: NRAO, Robert Gendler
"In the smaller systems, things happen much more rapidly, giving us more data to help understand the physics at work," Matthew Middleton, of the University of Durham in the UK and the Astronomical Institute Anton Pannekoek, in Amsterdam, Netherlands, leader of the research team said in this statement.
The instrument that first spotted XMMU[etcetera] was the orbiting XMM-Newton X-ray observatory, with the Swift and Chandra satellites adding eight weeks of observations back in January. Further observations were provided by the Karl G. Jansky Very Large Array (VLA) and Very Long Baseline Array (VLBA), and the Arcminute Microkelvin Imager Large Array in the United Kingdom.
In the terms of quasars, XMMU[etc] is quite small: the NRAO statement says the emitting region is around the same as the distance between the Sun and Jupiter, making it too small for even the VLBA to resolve details. However, both X-ray and radio emissions "closely parallel" the behaviour of previously-observed micro quasars. ®