Apple and Samsung mobile monsters: 'We only eat RAW CASH'
Go on Microsoft, feed the beast
---
Open ... and Shut For years, Apple dominated mobile industry profits, charging a premium for tightly integrated hardware-to-software-to-data centre mobile solutions. It turns out, however, that this magical formula for industry profits can be replicated, as Samsung is showing. It's also increasingly clear that it isn't cheap.
Apple and Samsung combined account for 98 per cent of mobile industry profits, according to research from analyst firms Asymco and VisionMobile. Perhaps not surprisingly, Samsung is catching up with Apple in terms of profits by copying its playbook, as VisionMobile analyst Stijn Schuermans notes:
The only handset maker apart from Apple who has built such a unique value chain today is Samsung. The electronics giant not only assembles handsets, but also makes a lot of the most expensive components, notably screens and chipsets. This allows the company to capture profits across the value chain, where its competitors can only capture the value of assembly.
That playbook isn't cheap to assemble. Asymco principal Horace Dedieu tracks the capital expenditures of the major mobile industry players, and clearly shows a two-horse expenditure race that matches the industry's profit race.
The companies involved are investing in different "infrastructure," with Samsung spending heavily on semiconductor and display manufacturing, and Apple adding to its services back-end. But overall it points to a central fact: the most profitable, successful mobile companies are also those with the highest capital expenses the most on capital infrastructure.
In other words, the mobile industry is not for the faint of pocketbook.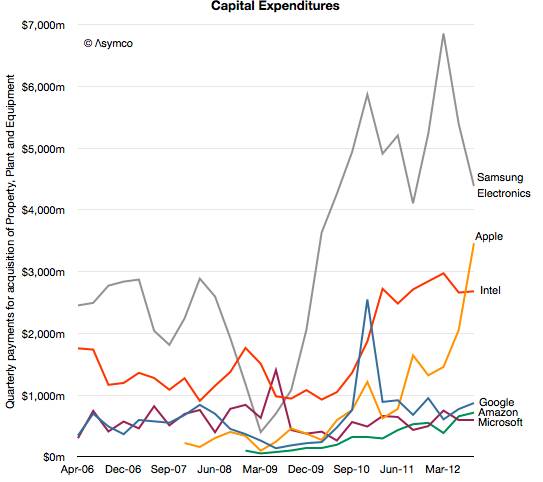 Asymco shows a two-horse spending race between Apple and Samsung
This isn't to suggest that lots of money ipso facto translates into lots of market share or even lots of profit. Research in Motion can't seem to buy a friend, much less market share. And Intel has spent heavily on x86 even as the world has continued to move to ARM.
But it's telling that not just Apple, but also Samsung, have both proved that owning the value chain is essential to win market share and profits in mobile. Microsoft has increasingly moved in this direction, and Google is heading there, too, what with its acquisition of Motorola Mobility. By definition, not all of these can win, and it may well be that those two companies that were willing to bet biggest on capital expenses, earliest, will hold their lead. But it does seem clear that serious capital expense is the ante to even get into this mobile game in earnest. ®
Matt Asay is vice president of corporate strategy at 10gen, the MongoDB company. Previously he was SVP of business development at Nodeable, which was acquired in October 2012. He was formerly SVP of biz dev at HTML5 start-up Strobe (now part of Facebook) and chief operating officer of Ubuntu commercial operation Canonical. With more than a decade spent in open source, Asay served as Alfresco's general manager for the Americas and vice president of business development, and he helped put Novell on its open source track. Asay is an emeritus board member of the Open Source Initiative (OSI). His column, Open...and Shut, appears three times a week on The Register. You can follow him on Twitter @mjasay.