This article is more than 1 year old
Sinclair ZX Spectrum FAILS latest radio noise rules SHOCK
1980s tech for 1980s rules
A pal of mine suggested a short while back that it might be fun to obtain the blueprints for Sinclair Research's ZX Spectrum and have a batch built up to sell to fans of retro computing. It's a good job this plan never made it out of the pub: the dear old Speccy would have immediately fallen foul of modern electromagnetic radiation interference regulations.
How do we know? Register reader and blogger Ben Supper recently put one of these early 1980s 8-bit micros into an EM test chamber to find out.
Ben writes that, to give the Spectrum a fighting chance of making it past the rigorous EN55022 standard test, he simply powered up the computer, not the associated TV, cassette recorder and the cables that connect them all together. He also disabled the test Spectrum's TV modulator.
Says Ben: "Six complete frequency sweeps were taken, at three angles around the equipment in horizontal and vertical polarisations, with the antenna at a height of 1.5 metres." That, he admits, was only the first part of the EN55022 test - the recent bad weather reduced the amount of time he had available in the test chamber which prevented him from running a full set of tests.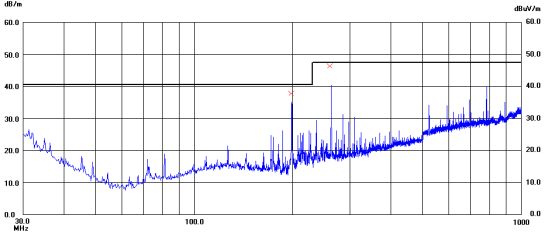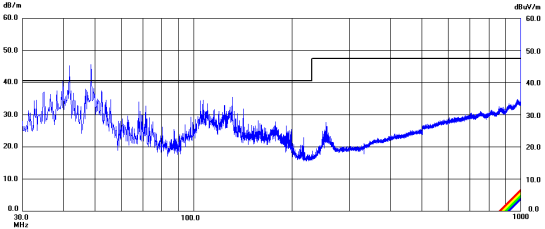 EN55022 output: a modern 'tricky' product (top) a not-so-modern product, the ZX Spectrum (bottom)
The thick black line is the test noise limit
Source: Ben Supper
Not that it would have made much difference.
Alas the leaky machine - from a radio standpoint - ensured the Spectrum did not pass the test. "It's not just a failure; it's an abject one," admitted Ben.
The Spectrum radiated enough energy at two frequencies - 42MHz and 48.8MHz - to fail the test, but noise above 100MHz, while below the failure emission levels, could easily bust the limit if the Spectrum had been fully connected up, Ben reckons.
The 42MHz peak arises as a harmonic of the machine's 3.5MHz clock frequency, while the 48.8MHz peak almost certainly arises from radiation emitted by the Spectrum's "rather fishy power supply and cable". It's also an upper harmonic of the PAL colour clock.
Of course, the Spectrum would have been designed completely differently had it been created in modern times, quite apart from being built not to exceed EN55022 noise levels. Back in the early 1980s, the Spectrum's electronics man, Richard Altwasser - who went on to design the Jupiter Ace - didn't have quite so many regulations to worry about. More to the point, now he might not have Sir Clive being quite so insistent that the kit be as cheap as possible.
You can read Ben's write-up of the test, and the background to it, here. ®