This article is more than 1 year old
Goldman Sachs: Windows' true market share is just 20%
Desktops are over, tablets and Smart TVs are in
Windows might still be the dominant desktop computing OS by a large margin, but Microsoft is in danger of becoming a small player in today's global computing market, according to a new report from financial bigwigs Goldman Sachs.
The report, which was obtained last week by The Seattle Times, says that while Microsoft operating systems were found on 97 per cent of all computing devices as recently as 2000, Redmond's current share is just 20 per cent, thanks to the explosion of mobile devices in recent years.
Throw smartphones and tablets into the mix along with traditional laptops and PCs, and Google emerges as the current platform leader. Goldman estimates that the Chocolate Factory's Android OS is now installed on 42 per cent of all computing devices worldwide.
Coming in second place is Apple, which helps to explain its mammoth stock valuation. Between OS X and iOS, the fruity firm actually has more users than Windows does now, with 24 per cent of the overall device market.
Goldman analysts aren't particularly hopeful about Microsoft's chances of reviving its platform, either. Although they see Redmond recapturing some market share thanks to the introduction of Windows 8 and Windows Phone 8, they see Apple remaining the bigger player through 2016, at least.
"Microsoft faces an uphill battle (though not insurmountable) given it lacks meaningful share in either tablets or smartphones and as such will need to rely on its appeal to knowledge workers to help drive adoption as its complement ecosystem will remain behind the iOS and Android platforms at least over the next 6-12 months," the report breathlessly states.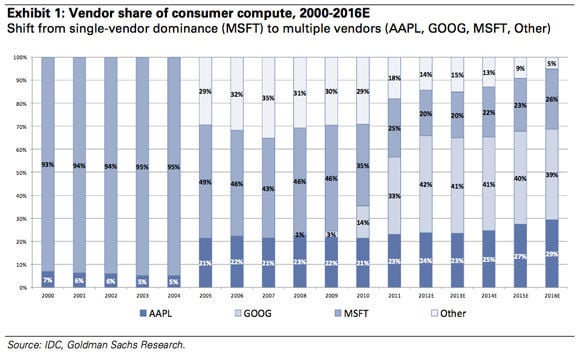 We've come a long way from Windows' glory days in the early 2000s (click to enlarge)
While Goldman Sachs predicts that the consumer PC market will remain flat in 2013, it believes tablets will be the key to the market in the coming years, with tablets helping to drive sales of devices in other form factors.
"If left without a meaningful competitor in tablets, we believe Apple's dominant share of tablets will act as an anchor that pulls its smartphone share ... steadily upward over time," the report says, noting that developing "a credible tablet" will be a must for Android's continued success, too.
That's not great news for Microsoft, though, if other recent predictions are to be believed. Just last week, analyst firm IDC estimated that Windows-based tablets would only account for 10 per cent of all tablets sold in 2016, with their current share a mere 2.6 per cent.
But the tech industry is a tricky thing, and Goldman Sachs is quick to point out that we may yet see still another device category emerge that could shake up the market just as much as tablets have.
Goldman's pick? Smart TVs, including standalone sets and devices such as Apple TV, Google TV, Roku, and Microsoft's own Xbox.
"We see [Smart TV] as having the potential to either further entrench current winners, such as Apple, or completely disrupt the market once again," the report says, adding that "consumers will match the platform of their more frequently purchased smartphones and tablets to the television they already own." ®