Convirture finally control freaks ESXi hypervisor
NOW VMware can finally BUY IT
---
Convirture, one of the early entrants to put out virtualization and cloud management tools, has finally done what it has needed to do for years to break into the big-time with enterprises: Support VMware's ESXi hypervisor with its ConVirt control freak.
A cynic would say that this is when VMware will swoop in to buy Convirture. Any one of the several systems management tool makers that don't have a full suite of cloud control freaks (Hewlett-Packard, Dell, and IBM come to mind immediately) might also be interested in ConVirture, too.
Convirture was founded in 2006 in San Francisco by Arsalan Farooq, the company's CEO, and Jaydeep Marfatia, executive vice president of engineering, and has been angel funded so far. How much and who from, the company does not say.
Convirture has development labs in India and has grown to 20 employees, with many of them, like Farooq and Marfatia, coming from various roles at software giant Oracle. Convirture had been shipping products aimed at managing Xen and KVM hypervisors in the late 2000s, and finally started aggressively peddling enterprise variants and tech support for its ConVirt 2.0 in July 2010.
At that point, its ConVirt 1.0 tools had been downloaded 30,000 times and were being bundled in a number of different Linux distros, including Ubuntu, Debian, and openSUSE.
The idea with ConVirt is to create a hypervisor and cloud infrastructure management tool that spans multiple hypervisors and clouds that provides the kind of sophisticated functionality of VMware vCenter console.
While Citrix Systems peddles XenCenter and Red Hat has mashed up a bunch of tools it got from Qumranet and has created with the open source community to come up with Red Hat Enterprise Virtualization Manager, the enterprise-grade management console for KVM, there isn't one tool that can span both KVM and Xen and the market has really needed one that can span KVM and Xen on the open source side as well as VMware's ESXi and Microsoft's Hyper-V on the closed source side.
ConVirt 1.0 came out in March 2009 and was a management console for Xen and KVM. With ConVirt 2.0 in July 2010, the tool was giving automation algorithms to help automagically scale virty infrastructure and to implement high availability for that infrastructure. With ConVirt 3.0, which came out in November 2011, Convirture spanned more operating systems and clouds, but still did not support the elephant in the corporate data center: ESXi.
With ConVirt 3.2, ESXi is finally being brought under control. You don't need to buy VMware's vCenter console to have ConVirt assume control, but Farooq tells El Reg that you do need to buy an enterprise-class license to vSphere because the broader set of APIs that allow for ESXi to be controlled from the outside are not exposed in the base ESXi hypervisor that VMware distributes for free.
If you are a full-blown user of the vSphere Enterprise Plus tools and have vCenter, you can plug into either and control freak them, too. Convirture supported ESXi 4.X in the beta of ConVirt 3.2, but with the production product, it is only supporting ESXi 5.0 or 5.1.
If enough of you ask for it, Convirture will backcast it to ESXi 4.0 or 4.1. (About 15 per cent of the beta testers working from VMware hypervisors were on an ESXi 4.X release.)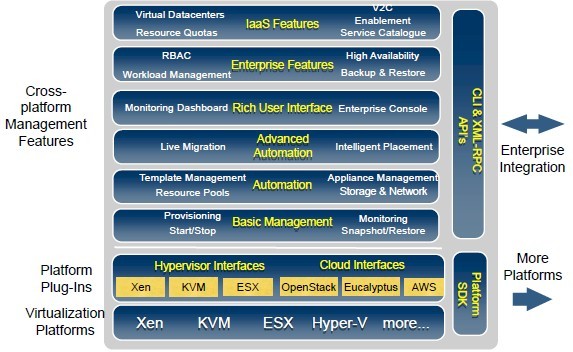 How the ConVirt tool stacks up and plays nanny to infrastructure
Like many open source vendors, Convirture takes and open-core approach with ConVirt, opening up the core code base for the tool and giving it away for free and then keeping some extensions closed source and tied to support contracts for both sets of code to have something to sell.
ConVirt Open Source does basic administration of a hypervisor using a web interface that front ends a repository; it has an agent-less architecture for managing hypervisors and VMs and allows multiple administrators to share responsibility for a pool of servers.
It has a templating system for provisioning VM images and has an application appliance browser, does thin storage provisioning for VMs, provides historical usage data and configuration information for VMs, and does drag-and-drop live migration of VMs.
There are in fact two top-end variants of the ConVirt stack. ConVirt Enterprise adds timetable-based provisioning and decommissioning of VMs, to the open source edition.
The enterprise edition also has role-based access control for admins and multi-tenant security, a command line interface, access to programmable APIs, high availability and disaster recovery overlays for the hypervisors, a virtual appliance catalog for self-service VM deployment, and alerting and notification for admins.
ConVirt Enterprise Cloud edition does virtual-to-cloud conversions and hooks into Amazon's EC2 compute cloud and also has hooks for any clouds (internal or external) running the OpenStack or Eucalyptus cloud controllers.
The obvious next step for Convirture is to add support for Microsoft's Hyper-V hypervisor, which has all of its APIs exposed and which, in theory, should be relatively easy to support. Farooq was did not make any promises, but said this was a "natural next step for the problem the company is trying to solve" and that the company did not see a "king of the hill for server virtualization and even less so for clouds."
ConVirt is available both as a perpetual license and under a subscription model. In the past, the company had a plat pricing scheme for two-socket servers, but it has moved to a tiered pricing model that scales down to single sockets to get the entry price point lower.
For perpetual licenses, it ConVirt 3.2 Enterprise costs $495, while it costs $895 for a two-socket server and $1,595 for a four socket server. These prices are quite a bit higher than the $1,495 that the company was charging a year ago for a ten-server license to ConVirt 2.0 Enterprise.
For an annual subscription, ConVirt 3.0 Enterprise it costs $449 on a single-socket box, $779 on a two-socket machine, and $1,149 on a four-socket machine. The perpetual licenses might look like a better deal, but remember, most software vendors charge version-to-version upgrade charges. So ask about that before you commit to one or the other pricing model. ®