Portable powerhouse
I didn't find the trackpad tricky to use for its size but for the fact that the wrist rest area's texture extends across it with only a small rise to mark the edge of the 'pad. It's easy to slide your finger off it. Gamers will want to use a mouse anyway.
The W110ER doesn't leave you missing your customary ports - there's a good selection here, including USB 3.0, Gigabit Ethernet and HDMI. Bizarrely VGA too - will buyers be using this boy with an old projector?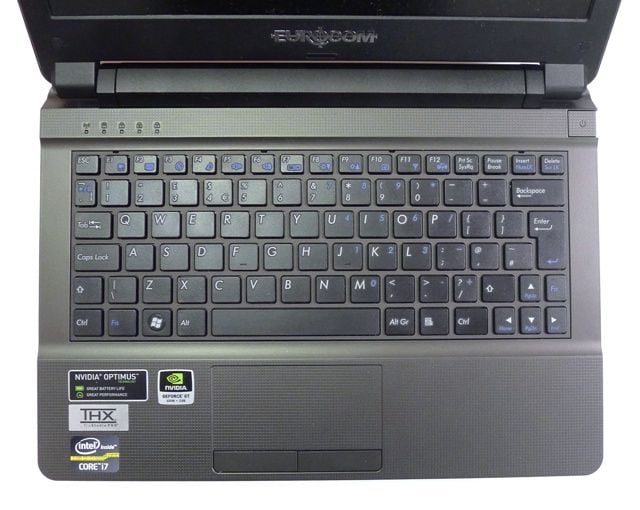 A netbook chassis means reduced-size keyboard and trackpad
Running full tilt, the W110ER sounds like a projector: the fan, you won't be surprised to learn, cranks up mightily. Under less taxing workloads, the fan is near silent, but it nonetheless gives the W110ER a noticeable vibration, which I didn't like. But noise is inevitable with any gaming machine, and laptops in particular. Chances are, players will have their headphones on and won't notice it.
Incidentally, the W110ER comes with THX TruStudio Pro, "the best sound effect you never have on laptop", as Clevo puts it. I'm not sure about that, but it's not at all bad.
The W110ER's battery is a netbook-style clip-onto-the-back job with a 5600mAh, 62.16Wh capacity. Futuremark's PowerMark test yields an "entertainment" battery life of just one hour 20 minutes, which improves by just 31 minutes when the suite's "balanced" test is run. That's poor, even for a netbook. While you might anticipate a low battery life playing games or watching movies, I'd want a longer runtime if all I'll be doing is browsing and typing.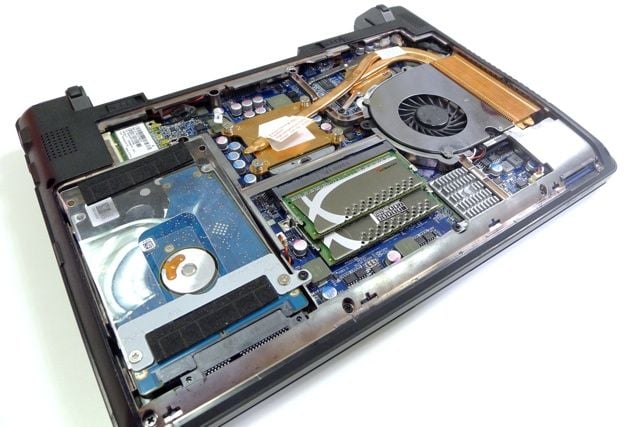 Slide off the baseplate for easy access to the internals
I should note that the tests were carried out with the screen on maximum brightness - lowering that will increase the available runtime. So too, you might think, would tweaking Nvidia's Optimus settings. Optimus switches between the discrete Nvidia GPU and the Intel HD 4000 integrated graphics to maximise battery life, or to deliver the most graphical horsepower when it's needed. But PowerMark defaults to integrated graphics, so those figures already teak the battery saving switch into account.
Optimus, however, is not supported under Linux, at least not as far as my Ubuntu 12.10 live CD was concerned. "Graphics: unknown", it told me. Nvidia is believed to be working on Optimus drivers for Linux, and there's the Bumblebee project too if you favour a more community created offering. A quick play with the live CD revealed Wi-Fi and Ethernet working, but the 8GB SD card I slipped in wasn't recognised.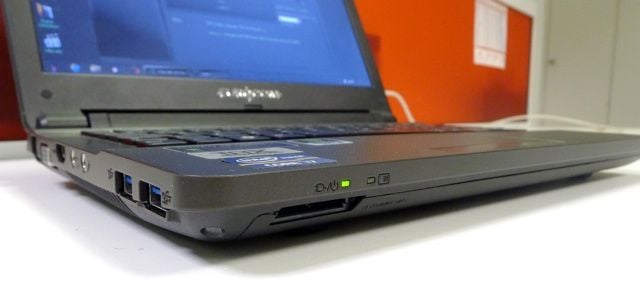 Not everything works in Ubuntu: the SD card slot, for instance
Despite its diminutive size, the W110ER delivers a decent but not exceptional performance. PCMark 7 yields a score of 4048 overall and 3707 for its "entertainment" suite. That puts it well above most other Ivy Bridge Core i5- and i7-based machines The Register has looked at of late - apart from those with SSDs, that is. The Nvidia graphics ensured I got very high frame rates at 1280 x 720 with medium-level detail, and still respectable rates with high levels of detail.
The Reg Verdict
You can't fault the Eurocom W110ER's performance as a games machine beyond the screen size, and that all reduces to a question of how, as a gamer, you rate having a big, in-your-face display over the extra portability a small, 11.6in screen helps achieve. If the W110ER's size meets a need you have - you're sick of carrying big laptops around - then there's nothing beyond the price to put you off. ®

Review: Eurocom Monster W110ER gaming netbook
An 11.6in, 1366 x 768 netbook that manages to contain a top-of-the-range Intel Extreme Edition Ivy Bridge CPU and Optimus-enabled Nvidia GeForce GPU.
Price:
From £674. As reviewed £1439 RRP