Huawei feeds up flash fish, offers juicy Dorado to storage-munchers
Gen 2 flash array triples in size
---
Huawei, the Chinese networking and storage supplier, has tripled the performance and capacity of its OceanStor Dorado 2100 flash array as well as adding 10 gig E and QDR InfiniBand access and thin provisioning. Deduplication is not included though.
The first gen Dorado, which we described here, was a Huawei Symantec box - at the time it had a JV with Symantec. But the second gen box is a pure Huawei product. The gen 1/gen 2 differences can easily be shown in a table: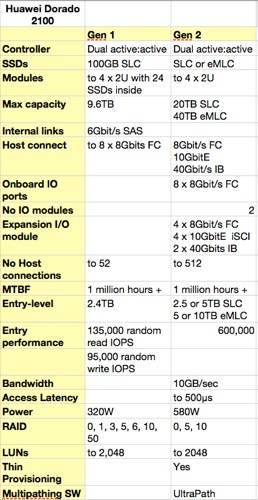 Click on image if your eyes need a bigger font
The amount of fast and expensive single level cell flash goes up from a maximum of 9.6TB to 20TB and the addition of alternative enterprise grade cheaper and slower multi-level cell flash (eMLC) results in a 40TB max capacity. The performance has gone up from 135,000 random read IOPS to 600,000, although Huawei doesn't provide the block size or, indeed, say in its statement, that the two IOPS measures use the same block size - perhaps El Reg is getting suspicious and cynical in its old age.
The original 8 x 8Gbit/s Fibre Channel host ports have 10GbitE iSCSI and 40Gbit/s InfiniBand added to them, providing a welcome increase in host connectivity options. The maximum number of supported host connections jumps from 52 to 512. Reading between the lines here, the dual active/active controllers appear to have had a significant X86 power boost.
In the gen 1 product there were seven RAID levels, as the table above shows. Now there are just three: 0, 5 and 10. The mean time before failure rating of 1 million hours plus is unchanged.
What we have here is another all-flash array contender taking on Greenbytes, Kaminario, Nexgen, Nimbus Data, Pyre Storage, Skyera, Solidfire, Violin Memory and Whiptail - and ready and waiting to meet EMC's XtremIO, NetApp's MARS, IBM's TMS, Dell's Fluid Cache and whatever Cisco and HP come up with. The market's beginning to look a little crowded. ®