Look out, Flash! Phase-change RAM IS HERE ... in Nokia mobiles
I, for one, welcome our new amorphous blob overlords
---
Micron is shipping phase-change memory to Nokia for use in its Asha smartphones.
Phase-change memory (PCM) stores each binary bit using the electrical resistance of a chalcogenide chemical: when the material is an amorphous blob, its resistance is high and it represents a 0; in its poly-crystalline state, its resistance is low and it represents a 1. The composition of each bit in the chalcogenide array is controlled by running a current through it.
PCM is non-volatile and is faster than NOR flash memory often found in mobile phones. It can cope with many, many more write cycles as well as being bit-addressable just like NOR flash. PCM reading and writing is generally faster than NAND flash. It can also, in theory, scale down its process geometry well past the point where flash becomes unreliable, roughly in the 19 to 15nm area, allowing it to squeeze more data onto the dies.
Micron started producing its PCM chips in July. These were 1Gbit components using a 45nm process combined with 512Mbit of low-power DDR2 memory in a single 1.8V package.
The PCM endurance was in excess of 100,000 write cycles. Micron is now talking about a million cycles.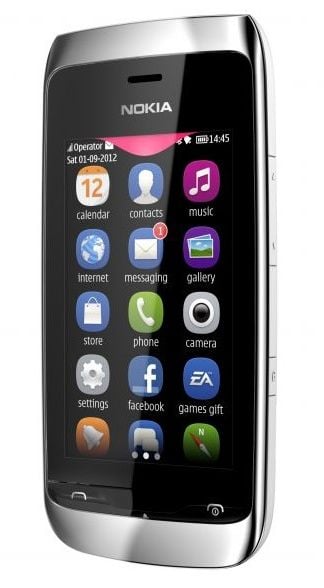 Nokia's Asha mobile phone
Micron insists PCM delivers a blazing fast device boot time and is faster to access than NOR or NAND due to its ability to overwrite bits rather than erase block by block. The tech draws little power and is, Micron claims, extremely reliable.
Future plans involve more smartphones and tablets, but for now Micron is sampling a 512Mbit PCM die plus 512Mb LPDDR2 memory in a multi-chip package that's suitable for less demanding applications than the Nokia Asha low-end smartphone.
Its roadmap will need higher capacity PCM dies than 1Gbit and that probably means shrinking the 45nm process. An EE Times report suggested Micron could go to a 29 to 20nm process for its next PCM die, skipping an intermediate 39 to 30nm process. This would be aggressive.
We understand Micron has a second mobile phone design win for its PCM product but it is not revealing the customer. The chip biz reckons it will ship tens of millions of PCM dies in a year thanks to these two design wins.
Competitors Samsung and IBM-Hynix are also working on PCM technology, and storage-class memory is one PCM target on the horizon. Samsung has produced an 8Gbit PCM array [PDF] in a research project. ®