Micro-computer bakers open Raspberry Pi shop
Mmmm, tasty apps
The Raspberry Pi Foundation has opened an online software shop tied to its cheap-as-chips micro-computer.
The Pi Store - not, alas, "the Pi Shop", which Brits will surely agree sounds better - is intended to provide a port of call for users seeking apps, games, tools and guidance to help them make the most of their wee, ARM-based machines.
It will be up to the Foundation's partners, IndieCity and Velocix, to make sure this happens smoothly. Blitz Games Studios' subsidiary IndieCity will be running the store, which makes use of its own e-commerce code and of Velocix's content delivery engine. Velocix is owned by Alcatel-Lucent.
Much of the content available is free, such as a sprite creation package for would-be games developers along with 23 apps, but the Foundation said it also wants to encourage commercial offerings. One of which, a game, has already been added to the Store's catalogue.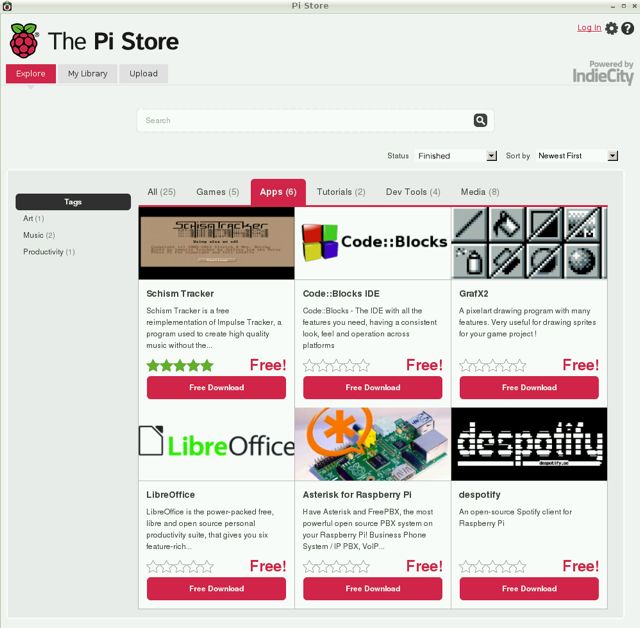 Not that the Foundation necessarily sees Apple iTunes App Store-style riches rolling its way. It sees the Store more as a way of bringing the diverse Pi community together in one place than as a cash cow. But by opening its doors to money-making apps - and by allowing users reward developers of free apps with tips - it's creating a launch pad for amateur coders to go commercial, as so many did in the early 1980s on the back of the ZX81, Spectrum, BBC Micro et al.
Think of the Pi Store as a listings magazine and WHSmith software section combined into one.
"With the Raspberry Pi finally having a dedicated software store, it's going to bring together the already-thriving Pi community in a way that's simply not been possible before," said Foundation co-founder Eben Upton.
"By now enabling Raspberry Pi users of all ages to gain critical and commercial success from their work through the new Pi Store we also believe it will be a powerful incentive for others to get involved and further spread the word."
The Store is an app in its own right, running on top of the Pi's Raspbian operating system. An update adding the Store to the OS has just been posted as a downloadable disk image. It's also available through the apt-get command.
Clearly adopting a belts-and-braces approach that's also handy for folk running multiple or modified Pi operating systems, the Store is also accessible through a web browser. ®