Plasma boffins' POWERFUL wind now a key clue to fiery Sun
Astrophysical turbulence experienced in lab hotbox
---
Boffins have attempted to recreate astrophysical turbulence in the laboratory, so they can study the force that forms stars, carries heat across galaxies and troubles the edge of the Earth's magnetosphere.
Using the Large Plasma Device at UCLA, physicists took high resolution images of turbulent plasma in the chamber and were able to test out current theories of what happens when plasma goes wild. They found that the models held good for the scenarios they tested.
Space turbulence is a force that regulates the formation of the stars throughout the galaxy and determines the radiation emitted from the super massive black hole at the center of our galaxy. It also makes the Sun's corona - the fiery haze that surrounds the Sun - up to 1,000 times hotter than the Sun's surface, reaching temperatures of a million degrees Celsius.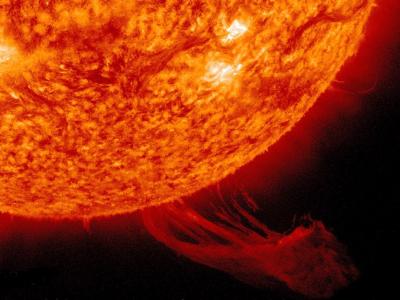 A solar prominence erupts into the Sun's corona. Photo by NASA
Closer to Earth, turbulence caused by violent emissions of charged particles from the Sun creates solar-powered winds that disrupt satellite signals and affect weather on the planet.
The scientists wanted to test out if the modern theory of astrophysical turbulence held good in experiments. According to current theory, turbulent motions in space and astrophysical systems are governed by Alfven waves, which are traveling disturbances of the plasma and magnetic field. The scientists wanted to test what happens in nonlinear interactions between Alfven waves traveling up and down the magnetic field — such as two magnetic waves colliding to create a third wave. The resulting turbulence confirmed what researchers expected about plasma behaviour.
It is almost impossible to measure the effects of astrophysical plasma in space itself - the paper explains that only lab experiments can achieve the controlled conditions and allow scientists to take the high-resolution images necessary.
Toward Astrophysical Turbulence in the Laboratory is published in Physical Review Letters, the journal of the American Physical Society. ®