Fish grow 'hands' in genetic experiment
Don't let them near the lasers
---
It's a pretty safe presumption that hands evolved from fins, since fish evolved long before anything remotely resembling an opposable thumb. Now, a group of Spanish researchers has demonstrated a genetic expression that hints at how it happened.
The group, led by Dr José Luis Gómez-Skarmeta of Spain's CSIC-Universidad Pablo de Olavide-Junta de Andalucía in Seville, found that zebrafish injected with a mouse gene, hoxd13, developed leg-like limbs where fins should be. This indicates that the hoxd13 gene – which occurs in the fish, but at lower levels than in mice – helped drive the genetic changes that eventually become arms, legs, hands and feet.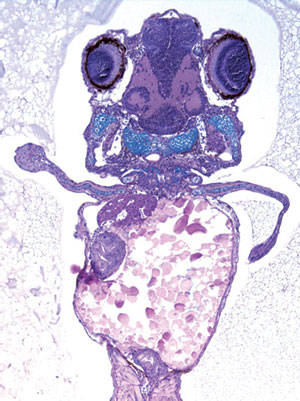 Dude, where's my laser? Image: Developmental Cell
As explained in New Scientist, hoxd13 codes for a protein that controls the development of autopods, a precursor to hands and feet.
All of the fish that took up the gene developed autopods rather than fins within a day. However, the genetic experiment was also fatal to the fish.
As noted in the abstract of the paper, published at Developmental Cell, the over-expression of hodx13 modifies the 5'Hodx gene transcription.
"Our results support the idea that modulation of 5′Hoxd gene expression, by acquisition of novel enhancer elements, offered the substrate for the evolution of fins and the origin of tetrapod limbs," the abstract states.
There's no hint that Dr Gómez-Skarmeta plans to try the same trick on sharks, thankfully. ®