Search engines we have known ... before Google crushed them
Dot.coms of the past slurped themselves into oblivion
---
GoTo.com
Before it bought AltaVista, Overture was known as GoTo.com, an Idealab spinoff that made money out of companies by charging them to appear at the top of its web search results. In early 1998, GoTo.com asked advertisers to say how much they would be willing to pay per click from the search results to their websites, and a couple of months later they were paying up to a dollar for a visitor's mouse-button press.
GoTo.com wasn't the first search firm to think, "hey, wouldn't it be cool to make money out of this?" but it was the first to get away with sponsored results. The idea of advertising on search engines had, until then, been resoundingly rejected by netizens, who thought the internet should be a free and lovely thing, unsoiled by capitalism. But by 1998, the masses were willing to put up with paid-for links, and since GoTo.com hadn't already launched on a free platform, and had gone on and on about how public-minded it was, the site was successful.
In 2001, GoTo.com renamed itself Overture Services and worked with MSN and Yahoo! to monetise their search systems. As well as gobbling AltaVista, Overture was also able to snag search engine AlltheWeb as it sailed through the dot.com crisis.
Two years later, Overture itself was bought by its biggest customer Yahoo! for a cool $1.63bn. The name only exists now in Japan and Korea; everywhere else it's known as Yahoo! Search Marketing.
Snap
The founder of Idealab Bill Gross, who was responsible for coming up with sponsored search, went from GoTo.com to Snap.com. When it debuted in 2004, Snap didn't keep the paid-for ads separate from the search results; instead it mixed them together and flagged them with the orange words "sponsored result".
The web engine was the first to do website previews as well by including a snapshot of sites in the search results. This snapshot feature is all that's left of Snap: the search engine is now marketed to sites as a tool for providing previews if the user hovers the mouse over a hyperlinks.
Snap Shots are provided by Perfect Market Technologies, which has Bill Gross, still CEO of Idealab, on its board.
Infoseek
Michael Agostino, who served as CTO of Snap, was also the co-founder of Infoseek, another of early and very popular search engine. Co-founded with Steve Kirsch in 1994, Infoseek, run by Infoseek Corporation, also offered a free web hosting package, had no advertising and had no limit on file storage.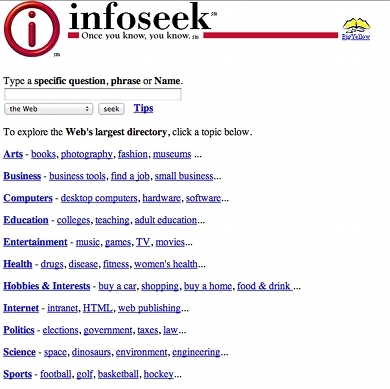 Infoseek
Within a couple of years after the launch, Infoseek had millions of visitors a month. It was the first engine to sell advertising on a cost per thousand page views (cost per mille, CPM) basis and was also the first web firm to target users based on their online web surfer, by using its Ultramatch algorithms. It was an Infoseek engineer Li Yanhong, or Robin Li, who moved to Beijing in 1999 and co-founded China's biggest search engine, Baidu.
Infoseek bought WebChat Broadcasting System at the start of 1998 just a little while before it was bought out itself by The Walt Disney Corporation. Disney then mashed Infoseek into Starwave to form Go.com.
From that year, Go.com was a big web portal, incorporating search, entertainment and other Disney sites such as ABC.com and Disney.com and personal web pages. However, by 2000, visitor numbers were dropping, so Disney decide to focus more on entertainment. The following year, Disney said it was going to shut the whole thing down, but in the end it only ended its search engine, switching to GoTo.com for its results, which eventually showed results from Yahoo!
After Infoseek went to Disney, serial entrepreneur Steve Kirsch founded Propel Software Corporation, which peddles a software to speed up the delivery of web pages. Shortly after that, Kirsch founded Abaca Technology, which built a spam filter, and then last year he started OneID, a secure sign-in service.