Search engines we have known ... before Google crushed them
Dot.coms of the past slurped themselves into oblivion
---
WebCrawler
More or less all of the search engines are connected in some way to WebCrawler, the metasearch system that aggregates results from various engines. Originally just a regular search engine, the site started gobbling information from a range of search engines fairly quickly after it was passed around like a hot potato.
Created by Brian Pinkerton and launched in 1994, WebCrawler was bought by America Online the following year and then palmed onto Excite in 1996. After Excite went titsup, WebCrawler was picked up by InfoSpace, which also runs metasearch engines Dogpile and MetaCrawler, all of which are still online today.
Brian Pinkerton now works at A9, Amazon's search and advertising subsidiary.
Excite
One-time WebCrawler owner Excite was a big internet player in the 1990s; it had an instantly recognisable web brand and slurped early search engine Magellan as well as WebCrawler. Founded by a whole bunch of students at Stanford University, Excite went live in 1995.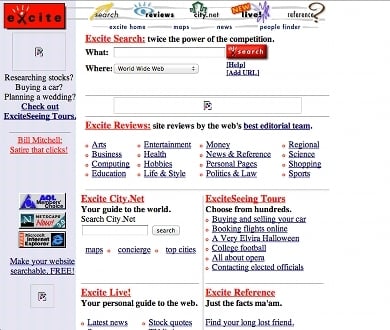 Excite
As well as eating up rival engines, Excite built up solid financial backing and signed exclusive agreements with Netscape, Microsoft and other big boys of the day. In an effort to differentiate itself, Excite started out with reviews of websites, but that idea was dumped in 1998 when it realised users just wanted to get straight to the content. Excite was never just search though, it was a whole portal that included news and weather, email, instant messaging, stock quotes and more.
The portal went public in 1996 and continued to grow and diversify into an early internet behemoth. It nabbed Netbot, the comparison shopping site, in 1997 and signed a deal with Ticketmaster at the same time. But the unwieldy net giant was running into trouble, reporting a net loss at the start of 1998 and admitting it only had enough cash to limp along for the rest of the year.
Yahoo! was the first suitor for the troubled site, offering $5.5bn to $6bn, but Excite went to the @Home Network for at least $6.5bn in January 1999.
Later that year, the website made what was probably the worst business decision of the internet industry to date: two grad students from Stanford named Sergey Brin and Larry Page came to Excite CEO George Bell with a search engine they'd developed that was apparently taking up too much of their time to run when they should have been studying.
Bell could have snapped up Google for $1m but refused, and refused again when one of Excite's venture capitalists managed to negotiate Brin and Page down to $750,000. Just as a reminder, Google is worth at least $220bn today.
Excite continued as a division under the newly named Excite@Home group, and kept up its voracious appetite by eating online shopping site iMall, Blue Mountain Arts, the online card company, and Webshots, a photo sharing firm. But nothing the portal did could save it, with its ad revenues plummeting and its stock value down 90 per cent in 2000, Bell announced his plans to step down as chief.
Excite frantically raised capital, but the writing was on the wall. In September 2001, it sold off Blue Mountain Arts for less than five per cent of what it paid for it and the following month Excite filed for bankruptcy. Bits and pieces of the conglomerate were sold off before iWon.com made a joint bid with InfoSpace for the domain name and brand. iWon changed its name to the Excite Network and continued to operate the site as a portal. It let InfoSpace have the search part of the site.
In 2004, Ask Jeeves acquired the Excite Network and the following year struck a deal with InfoSpace to share the costs and income from Excite search, which is still around today.
Two of Excite's founders, Graham Spencer and Joe Kraus, went on to found Jotspot, which made technology to let users collaborate on shared documents. Jotspot was acquired by Google in 2006 and both Spencer and Kraus work at Google Ventures. Google is also home to Excite co-founder Ben Lutch, who is an engineering director for the firm.
Another co-founder Ryan McIntyre built up early-stage venture-capital firm Foundry Group after a stint at Mobius Venture Capital.